Brazilian ex presidents discussing the outcome of the political situation
Thursday, May 25th 2017 - 20:45 UTC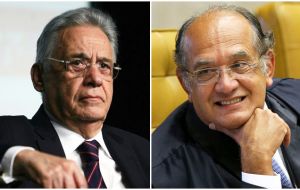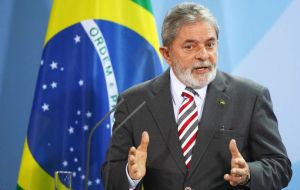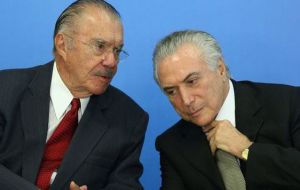 Three ex Brazilian presidents are holding talks on the future of the country following what seems the inevitable outcome of the current political situation with deep differences between the political system and the Judiciary.
Fernando Henrique Cardoso who ruled Brazil from mid nineties to 2002, Lula da Silva, 2002/2010 and Jose Sarney, 1985/1990 are reported by local media to have met (or their representatives) several times in Sao Paulo and Brasilia, and are acting at different levels in search for a consensus on the country's political future and current president Michel Temer's condition.
Cardoso, head of PSDB, the main ally of the ruling PMDB, has been in contact with Gilmar Mendes, president of the Superior Electoral Tribunal, which in early June might determine the end of Temer's term, because as vice president of the winning ticket with ex president Dilma Rousseff in 2014, they were involved in strong illegal unreported financing of the presidential campaign, annulling their victory.
The three groups likewise are very prudent in their conversations as not to disappoint any of the many parties in the Brazilian chaotic political system, with over a third of Congress members suspected of having received illegal payments or contributions from companies involved in major corruption schemes as those under investigation in Petrobras, the global meatpacking giant JBS and the national development bank, BNDES, which has a greater turnover than the World Bank.
Senator Jorge Viana from the Workers Party, (PT), led by ex president Lula da Silva, is in charge of contacts with PSDB and PMDB. However PT is committed to holding a presidential election, NOW, "Direitas Ja", recalling the 1983/84 street demonstrations calling for elections to put an end to 20 years of military dictatorship.
But also because Lula, who leads opinion polls in the first round of a potential snap election, could see his chances aborted if he is finally sentenced on several corruption cases for which he has been indicted.
Anyhow advancing the presidential election means amending the Brazilian constitution which needs of special congressional majorities, and much negotiation in a divided country, with a shocked public opinion that feels cheated by the extent of corruption surfaced in the political system.
Finally Jose Sarney, the first president after the end of the military dictatorship, and ex PMDB leader, is more prudent and conciliatory. He has been several times this week at the Executive Planalto palace, and believes president Temer should complete the year and a half remaining to the presidential election in October 2018. This would also mean congressional approval of tough labor and pensions reforms to put some order into the Brazilian government spending.