Argentina honors Spanish fisherman who spied on the Task Force during the Falklands war
Friday, May 26th 2017 - 10:20 UTC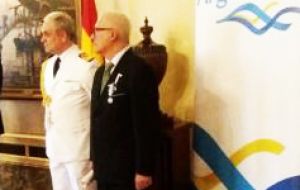 The Argentine embassy in Madrid honored a Spanish fisherman from Galicia, Fernando Otero, as a Malvinas Veteran for services accomplished during the 1982 Falklands war, spying on the British Task Force as she approached the South Atlantic. The event took place on Argentina's National Day, May 25th.
According to the report read at the embassy ceremony to honor Mr. Otero, from the Galician town of Bueu, the story behind the third engineer was kept secret until very recently, but the fact is that 35 years ago as a crew member of the fishing vessel Usurbill he started to work for the Argentine government with clear instructions to report "the best possible way to locate the Task Force".
Allegedly the Argentine flagged fishing vessel was operating in the South Atlantic and only used the radio to contact Argentine military contacts which had provided instructions and a simple code to identify vessels, such as hake, squid and whale for frigate, aircraft carrier and cruiser.
The spying started 17 days after the Task Force arrived to the battle theatre on 8 May 1982, and several times the fishing vessel was over flown by British helicopters and aircraft, and on several occasions believed they would be boarded, but this did not happen.
However another fishing vessel by the name of Narwal, which was involved in similar spying operations was not so lucky and was sunk by missiles with loss of lives and several crewmembers injured. The incident convinced the Usurbill and the Argentines that they should suspend operations.
But Otero kept silent all these years about the mission accomplished 35 years ago. And in a late acknowledgement, Otero was finally honored as a Malvinas Veteran, at the Argentine embassy by ambassador Ramon Puerta and the military attaché Julio Hoffman. The event took place on Thursday 25 May, which recalls the 1810 May Revolution, when the nascent Argentine nation rebelled from the Spanish Crown, and is considered one of the main dates of the national calendar.