Cristina Fernandez prepared to run for Congress to put a break to Macri's policies
Friday, May 26th 2017 - 10:26 UTC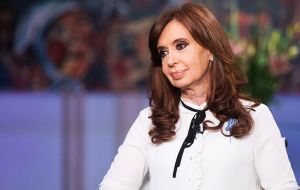 Argentine ex president Cristina Fernandez said on Thursday she is open to the possibility of running for a seat in Congress in the October midterm elections, since she considers essential to put a stop to the policies implemented by her successor, president Mauricio Macri.
"If necessary that I should be a candidate to add votes to our proposal (Victory Front), and makes it possible we win the election, then I am a candidate", said the former president (2007/2015) in an interview with a Buenos Aires television channel.
However the leader, who has a long experience as a member of congress, both in the lower house and Senate, said it must be clearly understood she's not after a bench, but there are "historic responsibilities and we must all contribute to unity, it's an obligation we all have to put a break to the neoliberal measures being implemented in Argentina".
Thus if she is asked Cristina Fernandez de Kirchner will be a candidate for the coming midterm election, but by no means "will I be an obstacle; if there is a better candidate with better chances, so be it he/she should run".
Midterm elections in Argentina are scheduled for 22 October, with primaries on 13 August, when 127 of 257 Lower House four-year term seats will be renewed and in the Senate a third of benches will be at stake, 24 out of 72.
The election is crucial both for the administration of Macri and the opposition, since no side has a clear majority, and the current president needs to show his market friendly policies and austerity measures have a strong support.
Cristina Fernandez criticized the magnitude of Argentina's foreign debt which has climbed to 95 billion dollars and it's not clear "where those funds have gone to". Have they gone to social promotion plans, to public works, to pension funds, who knows?
"Things have gone from bad to worse for the people, debts keep mounting and Macri enjoys protection from the media, almost an obscene armor plating from the media" claimed the former president.
However Cristina Fernandez was also critical of the Victory Front which, she said, "has not been up to the challenge" when it comes to voting legislation in the Senate. This was in clear reference to the fact some Kirchnerite Senators have supported bills from the Macri administration.