Malvinas Veterans acclaimed as they parade in Buenos Aires
Monday, May 29th 2017 - 09:42 UTC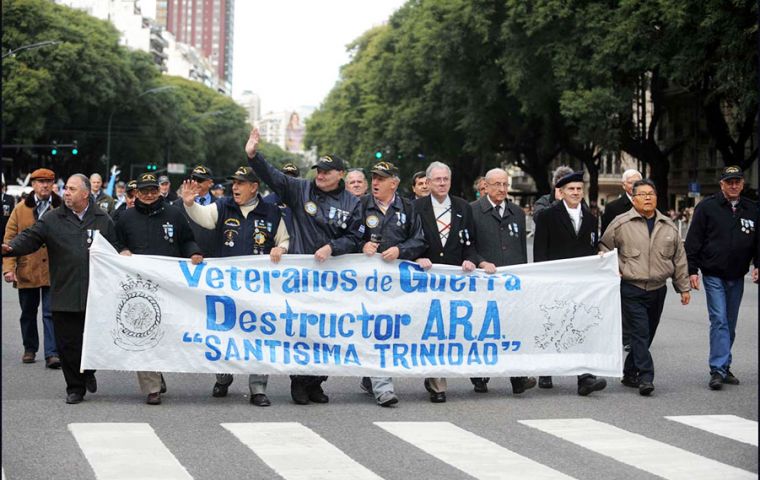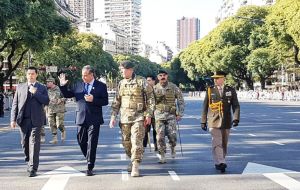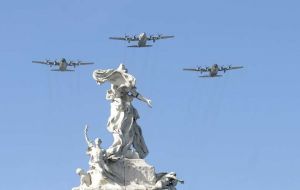 Hundreds of Malvinas veterans were applauded and acclaimed as they marched through Buenos Aires on Friday May 27th as part of the May Revolution 207 anniversary commemorations. Veterans closed the traditional military parade along two kilometers, which this year assembled 6.000 troops from all branches plus an air pass of aircraft and helicopters.
The ex combatants were invited to the parade by Defense minister Julio Martinez, in a repeat of last year's 9 July when the celebration of the 200th anniversary of Argentine independence. Veterans displaying their medals marched with flags and banners from the different combat units, some identifying their provinces others with members of their families.
Hailing "Long live the fatherland" (Viva la Patria) which was strongly responded by the crowd lined up behind barriers, Veterans paraded singing the "Malvinas March", while overhead Hercules C130, Pucara turbo fighters and A/4 Skyhawks crossed the sky of Buenos Aires. In total some twenty aircraft overflew, similar to those which were involved in the Falklands conflict in 1982.
The military parade also counted with music bands from Bolivia, Chile, Spain, United States, France, Italy, Morocco, Paraguay, Peru and Uruguay.
Minister Martinez underlined that the Argentine armed forces are back parading on such important anniversaries because now "they are at the service of democracy and the institutions and not of government".
"The forces hadn't paraded for fifteen years, but we want them to march, to be in contact with the people and communities because now they are committed to service the fatherland, and the Constitution" affirmed Martinez.
The minister also underlined the participation of Malvinas Veterans, "no government had ever invited them before, last year was the first time, and we are all very proud of them".