Faurie new Argentine foreign minister; Malcorra resigns for family reasons but will remain as advisor
Tuesday, May 30th 2017 - 05:13 UTC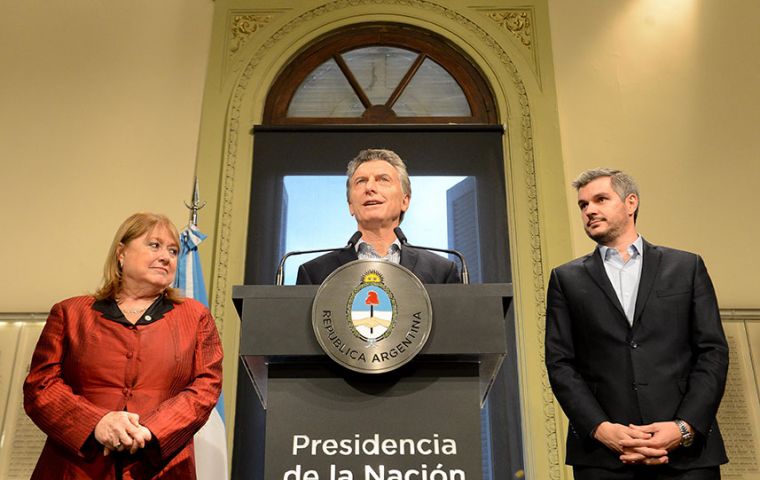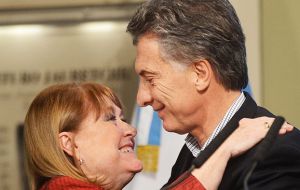 Argentine Foreign Minister Susana Malcorra resigned on Monday and will move to Madrid to be closer to her family, President Mauricio Macri announced. Argentina's ambassador to France, Jorge Faurie, will be the new foreign minister and Malcorra will continue as an adviser to the government from afar.
"Our foreign minister is leaving us - not the team, but the role of foreign minister," Macri told reporters at a press conference. "She is leaving this crucial role for strictly personal reasons."
Faurie, a lawyer, has served as a diplomat for four decades and was briefly vice foreign minister in 2002, according to a resume distributed by the government.
Malcorra, an engineer, businesswoman and diplomat who ran to be secretary general of the United Nations last year, led Macri's conservative administration's efforts to boost diplomatic and trade ties with the United States and other Western countries after years of tense relations under former President Cristina Fernandez.
President Macri praised her for helping to put Argentina back again in the world map, and mentioned achievements such as the fact the country will organize and host the World Trade Organization ministerial meeting next December in Buenos Aires and chair the G20 during 2018.
Furthermore Malcorra's contacts helped Macri host a long list of world leaders in Buenos Aires during his first twelve months in office including ex president Barack Obama.
The shift has been part of a general move to the right among Latin American countries formerly friendly to Venezuela's populist government, leaving President Nicolas Maduro increasingly isolated as violent protests shake the country.
Malcorra is the second minister to leave Macri's government since he took office in December 2015, following former Finance Minister Alfonso Prat-Gay, who was asked to resign late last year.
Under Malcorra, Argentina has taken a particularly harsh line toward Venezuela, accusing Maduro of violating democratic norms. Argentina and other members of regional trade bloc Mercosur suspended Venezuela from the group last year, and Malcorra has supported a push by the Organization of American States to increase pressure on Maduro.
"We will continue to have the same position we have had up until now," Malcorra said at the press conference, calling on Venezuela to set a clear timeline for holding elections, implement a separation of powers and free political prisoners.
Faurie will also inherit the ambitious effort to sign a trade deal between Mercosur and the European Union, as well as an escalating trade dispute with the United States over the importation of biodiesel, a key Argentine export.