Labour and Tories recovering ground in Scotland; SNP ahead with 43% vote intention
Friday, June 2nd 2017 - 07:47 UTC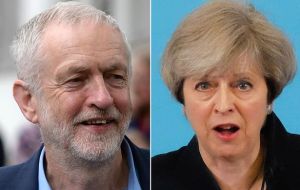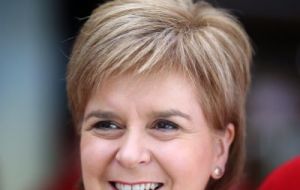 Labour is running neck-and-neck with the Tories in Scotland, with both parties attracting around 25% of the vote, a new opinion poll has indicated. While the latest Ipsos Mori findings for STV put the SNP (Scottish National Party) out in front with backing from 43% of Scots certain to vote - down from its 2015 result of 50% - Scottish Labour and the Scottish Conservatives are tied on 25% each.
With just one Westminster seat each in Scotland, both parties are targeting gains from the SNP, which secured 56 of the 59 constituencies north of the border in the last general election. The poll is a boost for Labour, with previous surveys suggesting its vote share could drop from the 24.3% it secured in Scotland in 2015 to as low as 13%.
It comes as UK-wide polling indicates Labour leader Jeremy Corbyn is closing the gap with Prime Minister Theresa May ahead of the June 8 ballot. While the Tories' Scottish vote share is up on its 2015 result of 14%, it is down on recent polls which put support for the party as high as 33%.
The Lib Dems were backed by 5% of those certain to vote, with 2% going to other candidates. Ipsos Mori questioned 1,016 people between May 22 and 27.
Approval ratings for the party leaders indicate Mrs. May is more unpopular in Scotland than Mr. Corbyn, with the former scoring a satisfaction rating of -27 and the latter -13. Voters were split on which of the leaders would make the "most capable Prime Minister", with 42% backing Mrs. May and 40% opting for Mr. Corbyn.
Among the Scottish leaders, First Minister Nicola Sturgeon's satisfaction rating was -4, with 46% stating they are satisfied with the way she is doing her job and 50% saying they are dissatisfied.
Scottish Conservative leader Ruth Davidson received a higher satisfaction rating of 5, while Ms. Dugdale recorded a rating of -2. The survey also shows support for Scottish independence stands at 45% among those certain to vote in a referendum. A majority - 51% - said they would vote No, with 3% undecided and 1% refusing to say.
Scottish Labour campaign manager James Kelly said: "This is another encouraging poll which shows that increasing numbers of Scots know the only way to defeat the SNP in the majority of seats in Scotland is to vote Labour on June 8."