Father of unified Germany Helmut Kohl dies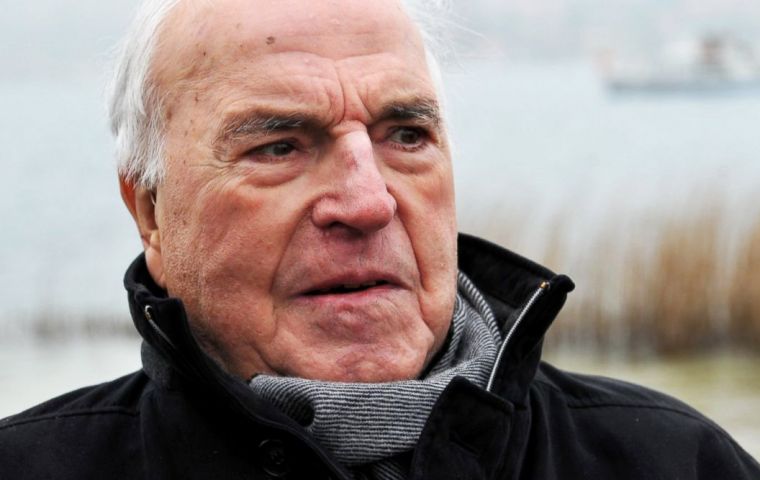 Former German Chancellor Helmut Kohl died on Friday morning in his home in Ludwigshafen, the Christian Democratic Union party (CDU) announced. The mentor of current Chancellor Angela Merkel and architect of Germany's reunification was 87 years old.
Kohl was Federal Chancellor from 1982 to 1998, which makes him the longest serving post-war chancellor so far, the highlight of his term being the German reunification, which earned him international prestige.
Politicians from Germany and abroad paid tribute to the merits of the CDU politician about German unity and the convergence of Europe. Federal Chancellor Angela Merkel (CDU) called her predecessor "a stroke of luck for us Germans."
Merkel emphasized Kohl's commitment to German unity. As he had used the favor of the hour after the fall of the Berlin Wall, "this was the highest level of government in the service of people and peace," said Merkel, who grew up in the former East Germany. "Helmut Kohl has also changed my way of life decisively."
German Federal President Frank-Walter Steinmeier paid tribute to Kohl's commitment to reconciliation with France and to the convergence in Europe. Kohl was the "pioneer of the united Germany and the Franco-German friendship," as France's President Emmanuel Macron said in German on Twitter.
Kohl was a driving force behind the introduction of the euro currency, convincing sceptical Germans to give up their cherished deutschemark.
An imposing figure who formed a close relationship with French President Francois Mitterrand in pushing for closer European integration, Kohl had been frail and wheelchair-bound since suffering a bad fall in 2008.
Former U.S. President George H.W. Bush said he and his wife Barbara "mourn the loss of a true friend of freedom, and the man I consider one of the greatest leaders in post-war Europe."
"Working closely with my very good friend to help achieve a peaceful end to the Cold War and the unification of Germany within NATO will remain one of the great joys of my life," he added in a statement. "Helmut was a rock."
Gerhard Schroeder, Kohl's successor as chancellor, called him a "great patriot and European...The unification of our country and our continent will be linked to his name for all time."
In Brussels, European flags were lowered to half mast in tribute. European Commission President Jean-Claude Juncker, who served as Luxembourg's prime minister while Kohl was in office, tweeted: "Helmut's death hurts me deeply. My mentor, my friend, the very essence of Europe, he will be greatly, greatly missed."
At home, Kohl is celebrated above all as the father of German reunification, which he achieved after the November 1989 fall of the Berlin Wall despite resistance from partners such as British Prime Minister Margaret Thatcher and Soviet leader Mikhail Gorbachev.
But shortly after leaving office, Kohl's reputation was tarnished by a financing scandal in his centre-right CDU.
Italian EU affairs minister Sandro Gozi tweeted: "We have lost a great leader, above all a European with vision and courage. We missed him and we will miss him. We must follow his example to relaunch the EU."
Kohl was born in Ludwigshafen on April 3, 1930. He worked quickly in the CDU Rhineland-Palatinate, where he became Prime Minister in 1969. In 1982, he became Chancellor in a coalition with the FDP. He remained in power for 16 years until he lost the Bundestag election against SPD candidate Gerhard Schröder in 1998.
As "Chancellor of Unity," Kohl entered the history books. During his term in office, the Berlin Wall fell and the German reunification was completed peacefully after over four decades of division.
He was also instrumental in developing relations between Germany and Russia, Naina Yeltsina, the widow of first Russian President Boris Yeltsin, told the media. "Mournful news has come that former German Chancellor Helmut Kohl passed away, the man who had done much for promoting equal relations between his country and a new democratic Russia," she said. "In the 1990s, which were so difficult for our country, Mr. Kohl was sincere in his attempts to help us cope with both economic and political turbulence surfacing after the Soviet Union's collapse." Yeltsin and Kohl had become friends, she said.
"Germany's chancellor had a personal, friendly, relation with Russia's first president - Boris Nikolayevich highly praised those warm feelings of Mr. Kohl towards Russia," she noted.
Kohl's spent his last years fighting health problems. In 2009, on the 20th anniversary of the fall of the Berlin Wall, he was wheelchaired to a ceremoney to commemorate the occasion.