Pence to visit Colombia, Chile, Argentina and Panama in August
Saturday, June 17th 2017 - 16:26 UTC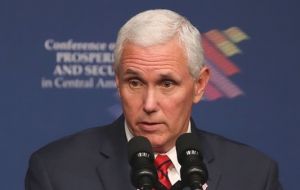 US Vice President Mike Pence announced he will be travelling to Central and South America later this year. During a conference on Prosperity and Security in Central America in Miami it became known that the Vice President will be touring Colombia -Cartagena and Bogota-, Buenos Aires, Santiago de Chile and Panama City on August 13-18.
"At President Trump's direction, and in a sign of the high importance he places on this region, in August I will travel to Central and South America," the Vice President explained. The Buenos Aires stop is expected to be particularly significant, with Argentina's hosting the 2018 G-20 Summit topping the agenda.
The Trump administration insists its determined to strengthen its ties with the region, despite a 2018 budget that proposes a significant cut in aid to those countries.
At the conference, Pence also spoke of US Hopes for "shared partnership" with Central America to halt illegal immigration, defeat gangs and transnational drug cartels, and end corruption. "This must end," said Pence on Thursday, "and this will end."
"Be assured, the United States is proud of our strong partnership with nations in the Northern Triangle. We are committed to strengthening that partnership so that we can continue to address the significant problems facing our neighborhood," Pence added. Top US officials said what happens in the Northern Triangle countries of El Salvador, Honduras and Guatemala directly affects the security and economic interests of the US and other countries in the region.
Secretary of State Rex Tillerson said that "in order to boost economic prosperity, it is imperative that we work together to strengthen the formal economy and diminish the economic drivers of illegal migration and other illicit activities." About the budget reduction, Tillerson explained that "this is no way an indication that somehow our interest is diminished in the region." He added that "there is substantial money in the budget to continue our commitment" to support security and law enforcement measures.
Cabinet members from President Trump's administration, senior officials from Mexico, presidents from El Salvador, Guatemala and Honduras, along with senior delegates from Latin America gathered in Miami for the Conference on Prosperity and Security in Central America.
The conference is regarded as the result of the close work done by the US and Mexico in recent months.