Falkland Islands: New terminal in 2½ years
Sunday, June 18th 2017 - 10:52 UTC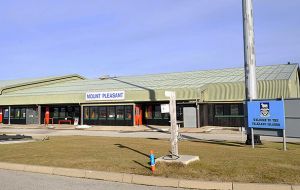 THE air terminal at Mount Pleasant is likely to be subject to civilianisation in approximately nine months, and be rebuilt, or extended or refurbished in two and a half years, stated the Chief Executive Barry Rowland at the public meeting on Monday.
He also challenged the belief held by some people locally that a larger airframe with 30-40 more passengers could not be utilised until a larger terminal was built. He said, "I think we can work around that with the cooperation of our colleagues in the Ministy of Defence."
Annual operating costs of the terminal are near £1million, "and I expect that would be shared between the MoD and FIG," said Mr Rowland.
MLA Barry Elsby said there had been a clear change in the attitude from Mount Pleasant (the forces base where the air terminal is situated) particularly since the visit by the Defence Secretary Michael Fallon. He said they, "are in a different mode of yes it will happen and not just paying lip service."
He said acceptance that it will be a joint facility both funded and run by civilians was a huge step for the military. (PN)