The Falklands: 35 Years of Progress opens today at the A&D Gallery
Tuesday, June 20th 2017 - 21:24 UTC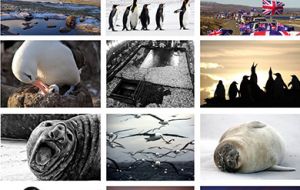 "The Falklands: 35 Years of Progress" is the second photographic exhibition held by the Falkland Islands Government, and is an exhibition with a difference. The photographs were crowd-sourced by the Falkland Islands Government, which ran a competition to find the very best pictures from the Islands' many skilled photographers.
The themes for the images were Politics, Economy, Society & Culture and the Environment.
This exhibition is timed to coincide with the 35th Anniversary commemorations of the Falklands War and British liberation of the Islands in 1982.
The result is an amateur photography exhibition of professional quality, which reveals a community proud of their beautiful environment and showcases the huge progress and developments the Falklands has undergone over the past 35 years and will promote the unique environment, history and people of the Islands.
Michael Poole, Member of the Legislative Assembly, from Falkland Islands Government said, "The Falkland Islands are an incredibly beautiful place with wonderful landscapes, seascapes, and a wealth of accessible wildlife. I have no doubt that these images will give Londoners a sense of the environment and the life we lead in our South Atlantic home."
Ray Morris-Hill, a London based photographer whose pictures form part of the exhibition said, "It has been two years since my visit to the Falklands but I will never forget my first landing at West Point. I tried to capture the sight of the Black-Browed albatrosses and Rockhopper penguins living together and was thrilled to have one of my photos chosen for the Falklands 35 exhibition. It is important to mark anniversaries for so many reasons and I am glad to play a small part in that commemoration."
The exhibition will run from Tuesday 20th June until Saturday 24th June at the A & D Gallery in Marylebone, and admission to the exhibition is free.