Argentina to appear before UN Decolonization Committee as one on Falkland/Malvinas Islands case
Thursday, June 22nd 2017 - 02:11 UTC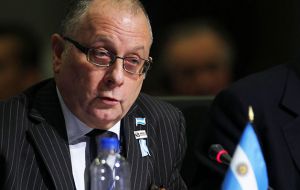 The entire political spectrum will join forces behind newly-appointed Foreign Minister Jorge Faurie as new appeal for UK to discuss sovereignty is expected to be launched.
With the mid-term October elections dictating the agenda, Argentina's government decided for the second straight year to put together a delegation with legislators and leaders of the ruling party as well as from the opposition to appear this coming Friday, June 23, in New York before the United Nations Decolonization Committee, in which a new appeal for the United Kingdom to discuss the issue of sovereignty over the Falkland/Malvinas is expected to be launched.
It will be also be the first time Jorge Faurie will attend such a high-ranking meeting since being appointed Foreign Minister on June 12. He will be flying straight in OAS Meeting in Cancun.
During the administrations of Néstor Kirchner and Cristina Fernandez, there were also joint diplomatic missions feauting officials from the then government and the opposition.
Senate Speaker Federico Pinedo, who took part in one of those missions, explained that "the important thing is that there must be clarity in the message that it is not a presentation of a government but of the entire political spectrum and that it is a State policy."
The UN Decolonization Committee meeting is the only multilateral body Argentina is yet to be supported by official statements regarding sovereignty.
Faurie is brokering a statement from the OAS foreign ministers in Cancun. Canada, however, is expected to stand by its adherence to the principiple of "right of self-determination" while the United States' position, officially "neutral" on the Falklands/Malvinas issue, remains to be seen.
The delegation will also feature 1982 War veterans Walter Batista and Hugo Núñez and also Florencia Vernet, "petitioner" before the Committee as a descendant of Governor Luis Vernet, who represented Buenos Aires until the arrival of the British in 1833.
Although the committee is chaired by Venezuela, the differences between the Maduro and the Macri administrations have not gone as far as to change a support for Argentina. (Source Clarin)