LGBTI Diversity Flag hoisted in Chilean city of Punta Arenas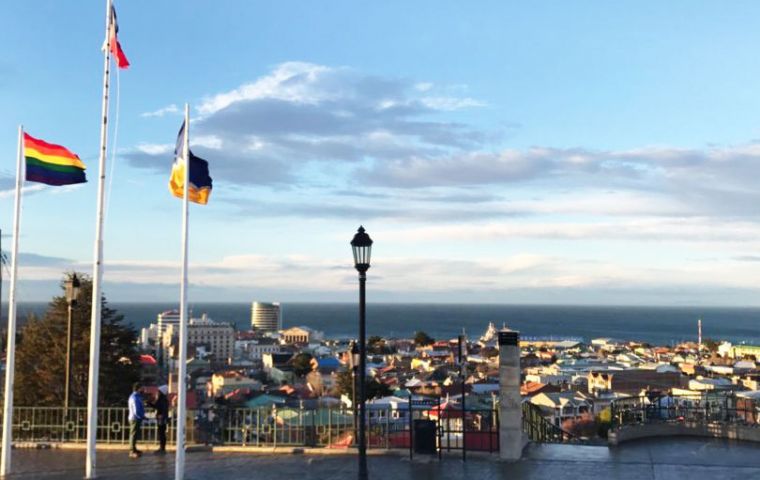 The diversity flag was hoisted Wednesday on Mount La Cruz in Punta Arenas, Chile's southernmost city, as part of the celebration of the International Gay Pride Day (LGBTI) by the Iguales Foundation. Similar ceremonies were held all over the world, including the Magallanes Region Government House, over 2,000 kilometers south of Santiago.
"What happened on Wednesday is a tremendous milestone that Punta Arenas has hoisted the banner of diversity in the southernmost part of the world," FI executive president Juan Enrique Pi explained. He added that "we hope it will become a constant practice in the region of Magallanes and throughout Chile, because respect for diversity must be a cross-cutting value, which will fill all regions of the country with pride."
Governor Paola Fernández welcomed the initiative and said that "it seems valuable to us to participate in activities that promote diversity, giving value to the rights of all Chileans." She went on to say that "as a government, we act from an inclusive perspective, eradicating all forms of discrimination, the best demonstration of which is the Equal Marriage Law bill," which has been announced by President Michelle Bachelet.
Iguales' Jimena Lizama expressed her gratitude for the good reception and support of the local authorities from "one of the southernmost areas of the world, where cultural changes often occur more slowly than in other regions." She also vowed to "continue to work so that each person is proud to be who he/she is."
Deputy Gabriel Boric, who represents that constituency in the national lower house, said that "from Magallanes we join the commemoration of the International Day of LGBTI pride because we are sure that a country advances when equality, tolerance and respect defeat discrimination."
"All members of this society must reaffirm their commitment to reach a different Chile, one in which we can be really free, because a society that discriminates violates us all," he added.