Lionel Messi and Antonella Roccuzzo tie the knot at last in red carpet event
Saturday, July 1st 2017 - 13:11 UTC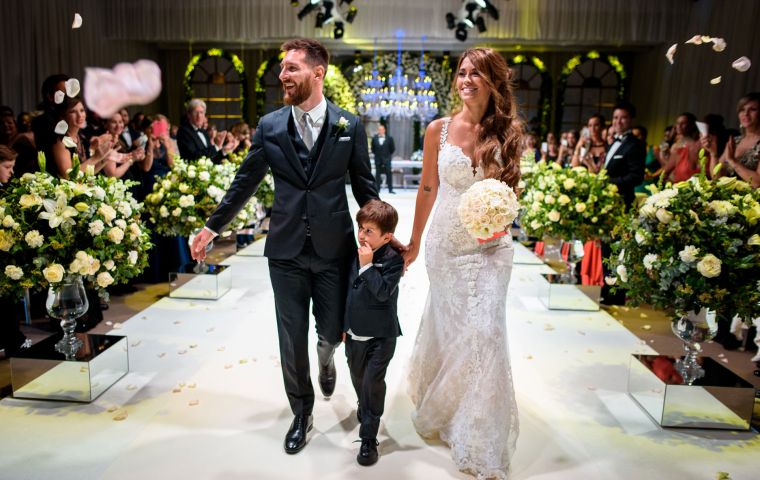 Barcelona football star and Argentine international Lionel Messi (30) and his life-long partner Antonella Roccuzzo (29), were married Friday evening in their native Rosario, some 200 miles northwest of Buenos Aires amid large-scale international press coverage. The couple already has two sons - Thiago (4) and Mateo (1).
Among the about 260 guests were Messi's present and past teammates from Barcelona FC and the Argentine squad.
Another celebrity present at the event was Colombian singer Shakira, who chose to be alongside her Barcelona partner Gerard Pique, despite her notoriously poor interpersonal stand with Roccuzzo.
Other guests included Brazil's Neymar, Uruguay's Luis Suárez and Spain's Carles Puyol and Xavi Hernández.
Argentine football star guests included Sergio Agüero, Javier Mascherano, Ángel Di María, Marcos Rojo, Mariano Andújar, Pablo Zabaleta, Maxi Rodríguez, Ezequiel Lavezzi and Gonzalo Higuain.
The ceremony, which started almost one hour late due to last-minute issues, was presided over by Rosario's Civil Registry director Gonzalo Carrillo Herrera, who temporarily moved his office to the City Center Rosario hotel and casino resort.
Lionel's siblings Maria Sol, Rodrigo and Matías Messi were witnesses for the groom, while Paula and Carla Roccuzzo, sisters of Antonela, stood on behalf of the bride to complete legal formalities.
Some 150 journalists from all over the world gathered around the red carpet to interview celebrities as they walked by.
Samuel Eto'o from Cameroon and other Barcelona's present former players Xavi Hernandez, Carles Puyol and Cesc Fabregas, flanked by their respective partners, all spoke to the press, unlike their Argentine colleagues.
Perhaps the fact that the Argentine national team, at Messi's initiative, have long chosen not to speak to the press in retaliation for some comments made by some sportscasters after poor performances is to account for their silence, even though it was not a sporting event.
Maybe that is the reason why such an occasion was of limited importance to Argentine media, in contrast to massive international press coverage.
During the day there was an exclusive hairdressing service available for attendees as well as a special area for children to be looked after.
Typical Argentine meals like casseroles of sweetbreads, smoked truffled meats and sausages were served.
Messi and Roccuzzo made a short red carpet appearance during which they posed for the cameras, kissed each other passionately and swiftly returned to the party.