Icebreaker Almirante Irizar expected in Puerto Belgrano for high seas trials
Wednesday, July 5th 2017 - 15:28 UTC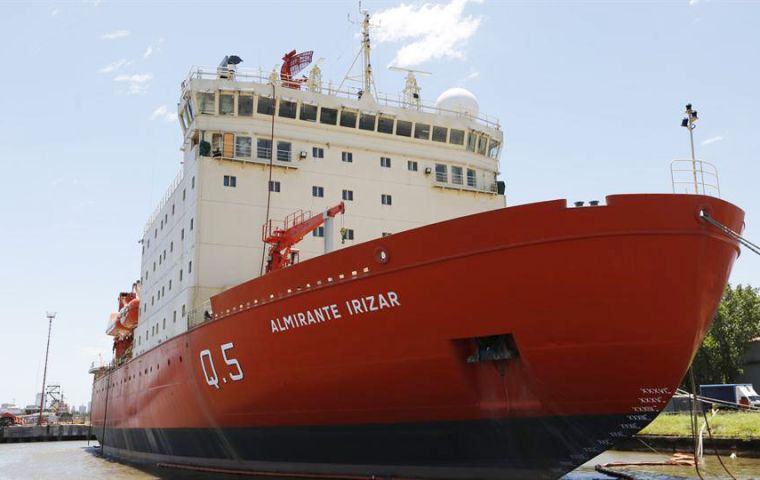 The emblematic Argentine navy icebreaker Almirante Irizar, responsible for the country's Antarctic effort left Buenos Aires on Tuesday for high sea trials. The Atlantic incursion was its first in ten years, since in 2007 the icebreaker suffered a major fire that almost destroyed the vessel, originally built in Finland.
"Icebreaker ARA Almirante Irizar leaves Buenos Aires for the dry dock in Puerto Belgrano (the Argentine Navy's main base to the south of the Buenos Aires province) where it will undergo the hull systems' verification", according to an official release from the Defense ministry.
Defense minister Julio César Martínez said that the trip to Puerto Belgrano is a high seas trial, the previous step to start ice trials and before her full reincorporation to the Argentine navy Antarctic effort.
In April 2007, on its return from the Antarctic campaign, Almirante Irizar caught fire at the generators' room which rapidly extended to the rest of the vessel. She was sailing 250 kilometers off the Argentine coast and its 296 crew members were rescued by two fishing vessels after six hours in the high seas in lifeboats.
In early 2010 it was decided to recover the icebreaker at the Tandanor dry dock, and following a seven years odyssey of insufficient funds, unending red tape and corruption allegations emerging from soaring over costs, Almirante Irizar finally emerged from the Argentine Naval and Industrial complex, heading for Puerto Belgrano.
However last 25 April the icebreaker was involved, successfully, in sailing trials to test systems, equipments and engines.