Macri expects to talk Falklands with PM May at the G20 summit in Hamburg
Wednesday, July 5th 2017 - 07:43 UTC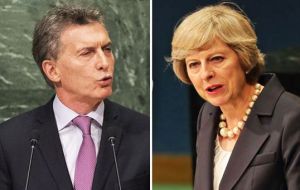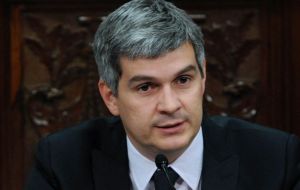 Argentine president Mauricio Macri is scheduled to meet in Hamburg with British Prime Minister Theresa May to reinforce cooperation and joint efforts but with the "difference" resulting from the dispute over the Falklands/Malvinas Islands remaining on the table, according to government sources in Buenos Aires.
"With the UK we have been working to reestablish the bilateral relation, which independently from the difference over the Malvinas issue, should allow us to enjoy closer cooperation, investment and joint work links", pointed out cabinet chief Marcos Peña.
Macri leaves this Wednesday for Germany to attend the G20 leaders' summit which will take place from July 6 to 8 in Hamburg, where he is expected to hold several bilateral relations with Mrs. May (yet to be confirmed) and other leaders such as French president Emmanuel Macron and Singapore prime minister, Lee Hsien Loong.
"We believe this is part of what happens at G20 summits, where leaders take the opportunity to hold bilateral meetings", added Peña in Buenos Aires following cabinet discussions which included representatives from several provinces.
Since Macri became president in 2015, Argentina and the UK have shown a clear willingness to launch a new constructive bilateral climate, following over a dozen years of deteriorated relations under the Kirchner couple administrations.
The last time Macri and PM May met was in September 2016 during a lunch offered by then UN Secretary General Ban Ki-moon to all world leaders attending the General Assembly in New York.
Apparently according to media reports at the time both leaders exchanged a few words relative to the Falklands/Malvinas, including the possibility of an "open dialogue" on the issue. However too much Argentine media enthusiasm seemed to overlook the fact that UK's position remains unchanged when it comes to the Falklands' future, which means any talks must include the Islanders, something the new Argentine government does not disavow but is still reluctant to accept.