All eyes to be focused on gestures from the first face-to-face Trump-Putin meeting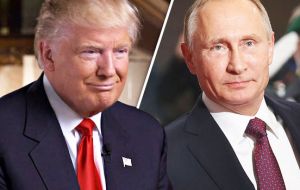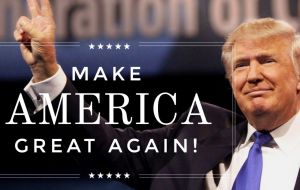 The first face-to-face meeting between U.S. President Donald Trump and Russian President Vladimir Putin will take place on the sidelines of the G-20 summit in Hamburg. The Kremlin says terrorism; Syria and Ukraine will top its agenda.

The White House says Trump will decide what to discuss, calling it a "normal bilateral meeting." Trump could raise any topic, analysts say, but Secretary of State Rex Tillerson tipped his hand somewhat with a statement late Wednesday saying the U.S. president will raise the crisis in Syria in his talks with the Kremlin leader.

The ongoing investigations into the Trump campaign's alleged collusion with Russia are casting a shadow over administration hopes the meeting could lead to improved relations.

"Everything that happens between Trump and Putin is going to be seen in that context," says the Hudson Institute's Hannah Thoburn. "Was Trump too friendly? Was Trump actually trying to seem very tough on Russia in order to quiet down his critics back at home? I think those are a lot of questions that we will see the answers to shortly."

The Russian diplomatic property in the U.S. that the Barack Obama administration seized could be on the table. The Kremlin is threatening retaliation if the property is not returned. Obama ordered the seizure in response to evidence of Russian meddling in last year's election. But Trump offering major concessions is unlikely, says Thoburn.

"I think it's going to be very difficult, particularly for President Trump, to give much," she said. "To say, 'well, we're going to take these particular sanctions away' it's going to be very difficult because of the position he's in here domestically."

Even fewer expect Trump to raise the issue of Russian hacking that U.S. intelligence says was aimed at helping him get elected.

"America expects from Trump a tough dialogue with Putin dealing with Russia's alleged interference into the elections in America. But I think that Trump will be quite embarrassed to raise this issue," says the Carnegie Moscow Center's Andrei Kolesnikov. "Putin, naturally, won't touch on this issue. So, it will just fallout from the agenda."

U.S.-Russia relations took a nose dive over the Kremlin's 2014 annexation of Ukraine's Crimea and military support for pro-Russia separatists in eastern Ukraine. The Kremlin hoped for a U-turn with the election of Trump, who praised Putin during his campaign and expressed a strong desire to work with Russia on Syria. But allegations of Russian hacking and Trump campaign collusion mean any new U.S.-Russia cooperation is subject to intense scrutiny.

"Russia has become toxic. You can't mention that you ate Russian blinis in Washington without being put on the FBI watch list," says Konstantin von Eggert, a political commentator for Russia's independent TV Dozhd. "And to some extent we have a paradoxical situation in which Russian leadership can't really talk to American leadership because every single step the Americans take is reviewed under a microscope by the democratic opposition, by the media, and - and let's face it, by serious elements of the state bureaucracy. It's a situation of 'be careful what you wish for.'"

Some analysts say any steps toward cooperation would likely be limited to rhetoric.

"We see currently neither a concrete agenda, nor concrete goals for both leaders, nor even the willpower to implement these goals," says Kolesnikov. "Putin seems to wait for some steps from Trump, while Trump is unable to cope with his own problems inside America. He does not know how to shape his attitude to Putin. No objective, no willpower, no progress."

Trump needs to be firm on support for Ukraine and on the conflict in Syria, says Thoburn, as the Kremlin tries to take ground when it sees weakness. "So, I would advise the president to go in with a strong sense of what he wants in Syria, what are the red lines, what actions will not be tolerated by the United States."

Trump sent a strong signal when U.S. cruise missiles targeted the Syrian air force over alleged use of chemical weapons, adds Thoburn.

Regardless of the outcome, the bilateral meeting is a win for the Kremlin, Kolesnikov says. If it goes badly, Russia will blame the U.S. If it goes well, Putin will take the credit.

Other than tweets by the U.S. president, observers will be watching visual cues between the two men. Much attention has focused on Trump's handshake and how other leaders respond to it. Both the U.S. and Russian presidents are known for projecting a physically strong image, says Sestanovich. But he notes that Putin at 170 centimeters (5 feet 7 inches) is quite a bit shorter than Trump's 188 centimeters (6 feet 2 inches).