Morales accuses Chile of violating International Court of Justice rules
Thursday, July 6th 2017 - 07:04 UTC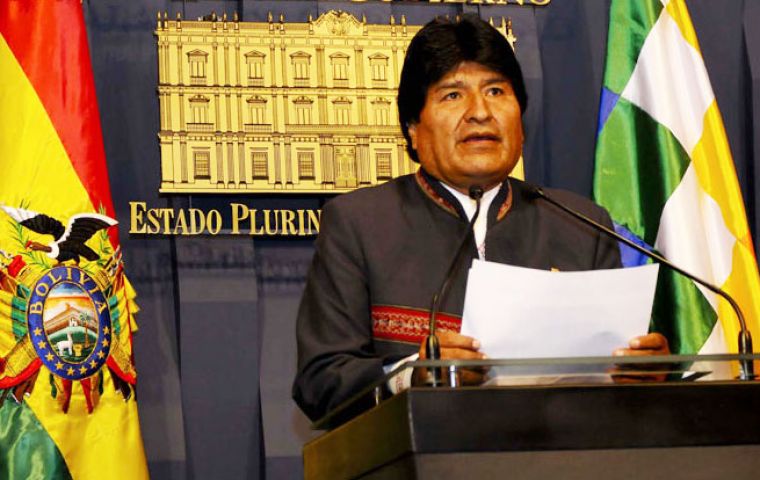 Bolivian President Evo Morales accused his Chilean counterpart, Michelle Bachelet, of violating rules of the International Court of Justice (ICJ) in The Hague by "revealing" the content of the report filed by that country in the dispute over the use of the Silala River, while causing an "unnecessary" conflict in the media.
Morales read a statement on the case at Government Palace in La Paz, confirming that on July 3, 2018, when Bolivia's response to Chile is presented to the ICJ in The Hague, a counterclaim will also be filed on the same issue against that nation.
The Santiago government filed Monday in The Hague the suit against Bolivia, in hopes of winning an ICJ decision that the Silala is an "international river," to which Chile has equal rights.
Bolivia rejected that stance and, to the contrary, accused Chile of diverting with artificial channels the hydrological resources that come from the Bolivian springs from which the Silala flows, and of gaining commercial enrichment from its access to the waterway.
Morales said that Chile "should acknowledge there are peaceful ways to resolve controversies between nations" and that it should not question the "competence of courts to resolve issues pending with Bolivia."
Morales immediately noted that his government "will make no reference" to the content of the report presented by Chile until the ICJ allows its publication.
He added, however, that Bolivia "categorically rejects the statement" by Bachelet and Chilean Foreign Minister Heraldo Muñoz "that not only violates the rules of the court, by revealing in a self-interested and inexact way the details of the dispute, but also openly provokes an unnecessary public debate in the media."
He also noted the "contradictory position of the Chilean government," which files suit against Bolivia before the ICJ, "while at the same time making unilateral use of all the water that flows from the Silala's springs in Bolivian territory by means of artificial infrastructure.
Both countries are also pitted against each other in The Hague court over Bolivia's 100-year-old maritime suit. In 2013, Bolivia asked the ICJ to resolve Chile's obligation to negotiate its demand for access to the Pacific Ocean, which it lost in the war that broke out in 1879.