"Sufficient evidence" of involvement in corruption to try president Temer
Tuesday, July 11th 2017 - 07:53 UTC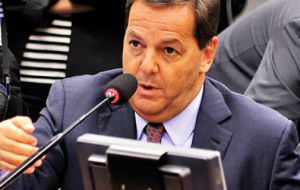 A key Brazilian lawmaker argued Monday that President Michel Temer should be suspended from office and put on trial in the country's highest court on a corruption charge.
Brazil's attorney general has accused Temer of accepting bribes from a meatpacking executive in exchange for helping the company obtain favorable government decisions. The president has denied wrongdoing and vows to fight the charge.
Legislator Sergio Zveiter, who was appointed by a Chamber of Deputies committee to study and report back on the Temer case, told the panel there is sufficient evidence to try the president.
"For now, what we have is evidence of the involvement" in corruption, Zveiter said during a lively session in which he was both cheered and jeered by fellow lawmakers when he finished his report.
The committee is to vote in the coming days on Zveiter's recommendation. But the final decision on whether the president should stand trial rests with the full Chamber of Deputies, the lower house of Congress.
Still, the report represents another blow for embattled Temer, who is struggling to hang on to his job, since Zveiter belongs to the president's own party.
If two-thirds of the 513 deputies should vote to accept Zveiter's finding, Temer would be suspended for up to six months pending a trial in Supreme Federal Tribunal. Chamber of Deputies Speaker Rodrigo Maia would take over presidential duties.
After Zveiter spoke, Temer's lawyer, Antonio Claudio Mariz de Oliveira, presented his defense, calling the allegations "a lie."