Gibraltar flag on display outside of Parliament as Spanish King begins London visit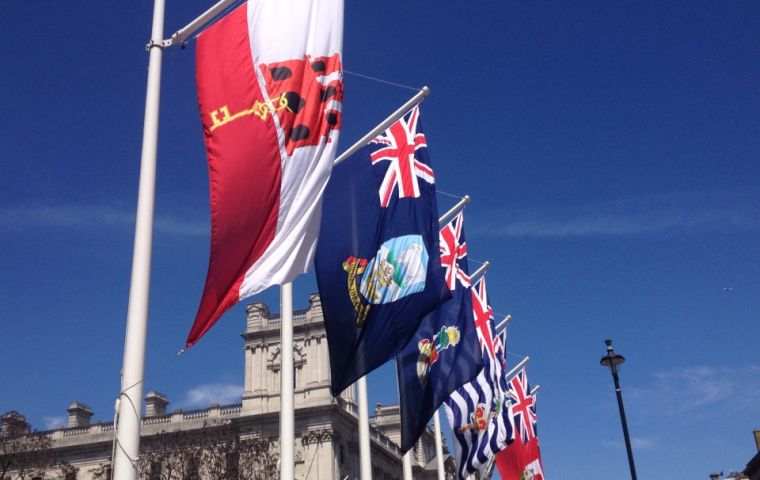 A flag of Gibraltar (and Falkland Islands) was on display outside the Houses of Parliament as King Felipe of Spain arrived in London for his state visit. The red-and-white banner, bearing a red castle and golden key, was placed at the centre of a row of flags of the British overseas territories and dependencies in Parliament Square.
Its presence was welcomed at Prime Minister's Questions in the House of Commons by Conservative MP Andrew Rosindell, who urged Theresa May to remind the King that Gibraltar is British, despite long-standing Spanish claims on the territory.
Addressing First Secretary of State Damian Green, who was standing in for Mrs. May in her absence at the welcoming ceremony for King Felipe and Queen Letizia, the Romford MP said: "I know that the First Secretary will be delighted to see that Parliament Square is now displaying the flag of every British overseas territory to welcome the King of Spain this week, including the flag of Gibraltar."
"Will he ask the Prime Minister to remind the King of Spain that Gibraltar is British and that its sovereignty will remain paramount?"
Mr. Green responded: "I am happy to assure my honorable friend that the Government's position on Gibraltar is that the primacy of the wishes of its inhabitants, which are overwhelmingly to stay British, will be respected."
Flags of the overseas territories and dependencies are regularly raised outside Parliament for state occasions such as the King's visit, and Gibraltar's flag is placed in the middle because they are in alphabetical order.
Flags of Commonwealth nations were displayed at Horse Guards Parade.