Argentina's central bank hikes interest rates to combat high inflation
Wednesday, July 19th 2017 - 10:57 UTC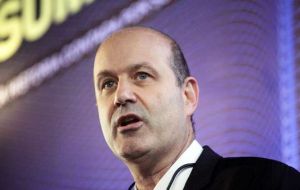 Argentina's central bank hiked interest rates on its short-term securities on Tuesday in its monthly auction, the second such increase in the past three months as it seeks to soak up pesos and rein in stubbornly high inflation.

The monetary authority sold 467.623 billion pesos (US$27.11 billion) in Lebac securities, compared with the 532.022 billion pesos worth of securities that matured. It raised the interest rate on the 28-day Lebac, the shortest-term security on offer, to 26.5%, up from 25.5% last month.

The central bank is targeting inflation of between 12% and 17% this year, well below economists' expectations for 21.5% inflation. The now refurbished and reliable stats office, Indec, reported that consumer prices rose 11.8% in the first half of the year.

"Core inflation has shown a persistence with which we're not completely comfortable," central bank President Federico Sturzenegger told reporters on Tuesday. "This persistence of core inflation is what has obliged us, or driven us, or motivated us to harden our monetary policy stance."

The central bank no longer considers the short-term Lebac yield as its benchmark interest rate, turning instead to the seven-day interbank lending rate at the start of this year. It hiked that rate to 26.25% in April and has since held the rate steady".