International legal cooperation has been essential in combating corruption admits Brazilian Prosecutor General
Saturday, July 22nd 2017 - 12:10 UTC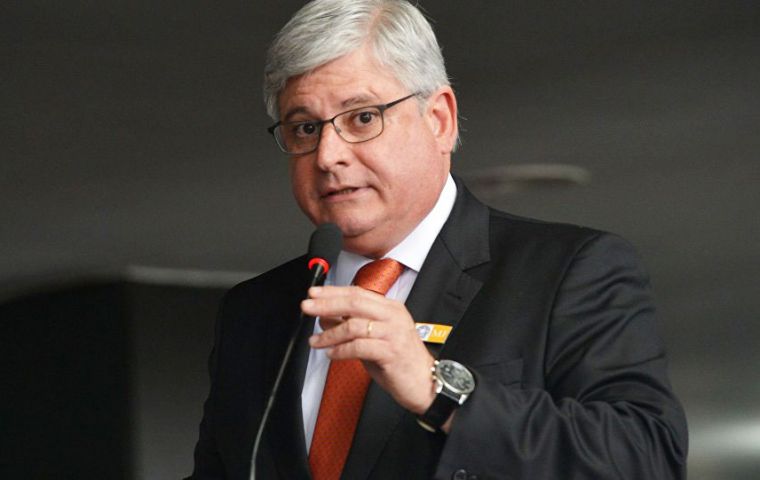 Former Brazilian President Lula da Silva's conviction on corruption charges is not a political statement, but an enforcement of the law demonstrative of Brazil's commitment to combat corruption at the highest levels of society, Brazilian Prosecutor-General Rodrigo Janot said at the Atlantic Council this week.
"What we do is to apply criminal law… and look for the criminals despite the fact that they have political mandates," said Janot in a keynote address. An investigation such as Operation Car Wash, a sprawling anti-corruption probe that has garnered a great deal of international attention for its scope and efficacy, is "not a political action, but applying the law, enforcing the law," he insisted.
"The law that exists is to be applied to everyone regardless of their religion, their race, or their status," said Janot.
Started in 2014, Operation Car Wash investigates money laundering schemes tied to government oil contracts, and has continued to grow, launching investigations into the affairs of powerful businessmen and government officials. On July 12, Brazil's former president, popularly known as Lula, was convicted of corruption and money laundering tied to Car Wash. Current Brazilian President Michel Temer also faces charges in the investigation.
"Brazilian prosecutors and law enforcement have been at the forefront of the anti-corruption fight over the last few years," US Acting Assistant Attorney General Kenneth Blanco said in a keynote address. Operation Car Wash, especially the guilty verdict leveled at Lula, "put Brazil at the forefront of countries that are working to fight corruption both at home and abroad," Blanco said.
However, "without international legal cooperation, it would be impossible to do what we have been doing," said Janot.
According to Blanco, in an increasingly globalized world, where crime is transnational, combating corruption at the highest levels requires international cooperation, such as that exhibited between the United States and Brazil.
"Economies now are global… they become more global every day. In that as well [so] do the criminal enterprises; they are global," said Blanco. "They do not respect borders," he added. Consequently, countries, while keeping in mind respect for each other's sovereignties, must work together. According to Blanco, "our biggest investigations are increasingly transnational."
"The criminals we seek to identify and bring to justice move quickly, and it's imperative that we do the same," he said, adding: "To succeed in this commitment, we will always seek, when appropriate, cooperation with countries like Brazil."
Janot described how international cooperation, namely close coordination between legal and law enforcement counterparts in all countries involved in the investigation, has played an essential role in the advances made toward prosecuting corrupt officials and companies around the world.
By sharing evidence through secure channels and close collaboration between US and Brazilian counterparts, the criminal fraud divisions in both countries have closed on major transnational cases, namely, the Odebrecht case. The largest construction conglomerate in Latin America, Odebrecht was investigated by Brazil, the United States, and Switzerland for corruption. The case ended with nearly seventy-seven officials convicted in Brazil, and US$2.6 billion paid in fines.
Janot described how it is pressure from civil society and the free press which has not only driven the efforts of Operation Car Wash, but ensured the proceedings remain transparent and accessible to the public. In light of increasing public frustration and the gains made in Operation Car Wash, Janot said: "I don't know if the system is completely changed, but the ways and the steps taken are irreversible."
"I don't believe the Brazilian society will accept to go back to a system like it was before this investigation," said Janot, adding: "We still have a long way to go, but with what we are doing right now, I don't think we can go back."