Submarine HMS Ambush collision off Gibraltar cost at least £ 3.4m
Monday, July 24th 2017 - 09:26 UTC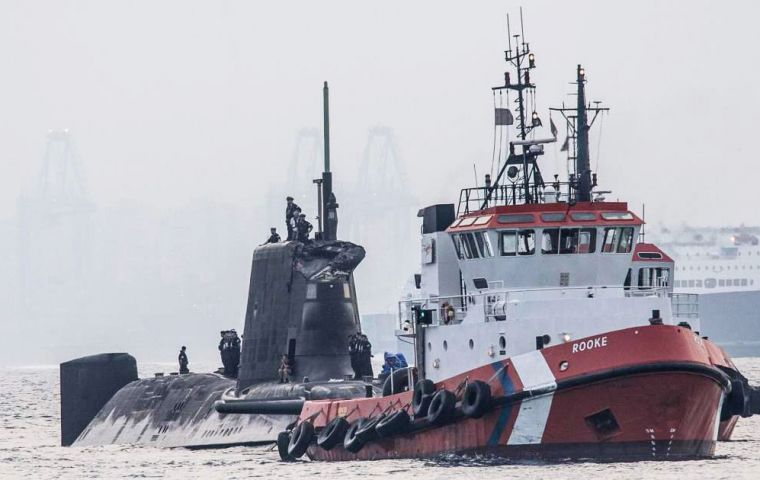 British taxpayers were left with a bill of over £3.4m following the collision off Gibraltar last year between a Royal Navy submarine and a merchant ship. HMS Ambush, one of Britain's new Astute-class nuclear-powered submarines, sustained damage to its conning tower during a glancing collision with a chemical tanker while submerged in international waters 3.3 nautical miles off Gibraltar.
The £1bn submarine did not suffer any damage to its nuclear reactor or to the integrity of its hull. The MoD later described the damage as "superficial". But HMS Ambush spent a week in Gibraltar undergoing minor work and unloading weapons before sailing back to the Scotland to be fully repaired.
According to newly-published MoD accounts for 2016/17, those repairs cost just under £3m. In a section on losses and 'fruitless payments', the MoD revealed costs totaling £453,000 for accommodation and equipment hire that was not used following the collision.
HMS Ambush was involved in the collision despite being equipped with what the Royal Navy boasts are "world-leading sensors".
The submarine had been operating submerged off Gibraltar for at least a fortnight and had been filmed by local sports fishermen prior to the incident.
At the time of the collision HMS Ambush was hosting the final month of the Submarine Command Course, a challenging course used to test the skills of aspiring captains.
The five-month course, known by submariners as 'the Perisher' because of its high failure rate, is used to test students' skills and temperament to the limit and is overseen by a senior commander referred to as Teacher.
At the time of the collision, the MoD confirmed that the UK's Defense Safety Authority was conducting an "independent service inquiry" into the circumstances surrounding the collision.