Influential Tory MP proposes BOTs elected representation in Westminster
Tuesday, July 25th 2017 - 04:17 UTC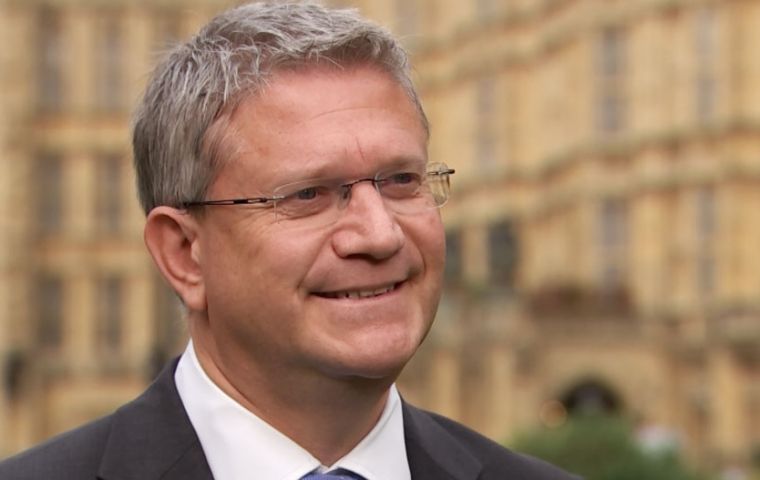 An influential Tory MP has said that increased devolution powers to the Home countries has made lack of Westminster representation for the Crown Dependencies and the British Overseas Territories a great unfairness, and it is time to end the outdated system of treating them like Colonies.
Speaking at the annual reception of the Friends of the British Overseas Territories (FOTBOT) in London on 19th July, Conservative MP Andrew Rosindell, spoke about the progress of the organisation and the political changes which needed to be considered for the future of the British Overseas Territories and Crown Dependencies ( a total of 17 jurisdictions all over the world).
Andrew Rosindell is MP for Romford and is recognised and respected as the main UK Parliamentary supporter of the fourteen British Overseas Territories and the three British Crown Dependencies. He holds several key positions in UK All party Parliamentary Groups, including Chairman of that for UK Overseas Territories, for the Channel Islands and also for the Isle of Man ( Manx) ones. He is also a Member or Vice Chairman of many others.
His knowledge of the British Overseas Territories (BOT's) and Crown Dependencies (CD's) (*) is extensive, having visited most of them and met many of their politicians and citizens.
In 2012 he proposed that the CD's and BOT's should be represented in the UK Parliament, like Dependencies of Australia, Denmark, France, the Netherlands, and others, are in their national Parliaments.
He further expanded on his proposal at last week's reception held by FOTBOT, at which the former Director of Gibraltar House in London, Albert Poggio, also spoke.
Andrew Rosindell said that the increased powers given to devolved administrations in the UK, particularly in Scotland, Wales and Northern Ireland, had further changed the political landscape, and made it more necessary to ensure all members of the British family were treated equally in terms of democratic representation.
He said it was unfair for those of the British family living in England, Scotland, Wales and Northern Ireland to have full representation at Westminster, but those of the British family living in the BOT's and CD's to have absolutely none.
It was, he said, an outdated type of colonialism, to perpetuate this unfairness, and there was an urgent need to review the issue of achieving such overdue representation.
MP Rosindell said it was wrong he said, for the BOT's and CD's to have no say on crucial matters such as Foreign Affairs and Defence, and indeed to not be able to speak up on their own jurisdictional interests in the national Parliament.
He went further to state that many politicians in the BOT's and CD's were of exceptional calibre, well able to be excellent Parliamentarians and a credit to their constituents. There was no reason, he said, why they should not hold Ministerial office in a future UK government, particularly when coalition type government was not uncommon. He also said that such MP's should be in a position to vote on and influence who would be the Prime Minister, which was also important because Prime Ministers often engage in international negotiations which affect the future of the various individual British jurisdictions.
He re-iterated that having UK Parliamentary representation, would not affect in any way the autonomy and decision making of the BOT's and CD's, that their status would not change, and they would simply be given representational rights they should have had a long time ago.
He said he preferred the Danish type system for the BOT's and CD's, where Greenland and the Faroes were autonomous and not part of Denmark, but entitled to send representatives to the Danish Parliament.
This was in contrast to the French system, where most Overseas Territories are considered to be part of France.
MP Rosindell added that whilst the process of achieving House of Commons representation for the BOT's and CD's could not happen immediately, there was no reason why they could not have Members of the House of Lords straight away, having the same rights as others in the British family.
He pointed out that having MP's would make clear their British family heritage and deter other countries from having a claim on them.
His proposals were warmly applauded by those attending, which included citizens from many of the BOT's and CD's.
Albert Poggio from Gibraltar, agreed the ideas should be considered, even though he was not as enthusiastic for them as Andrew Rosindell.
However, his open mindedness was welcome because it is seen that many in political and public service in the BOT's and CD's have wrongly believed their own authority and influence could be diminished if such Parliamentary representation comes about. It is therefore important that the UK government takes the lead in bringing about this proposed improvement in democracy and does not allow it to be stalled in any way.
If this is simply put to the individual British jurisdiction governments for their consideration, it is unlikely to progress. It is something the British government should state they are going to do and they should get on with it. There could be referendums on the subject but should people be asked about being given the same rights as other British citizens?
(*) The three Crown Dependencies are Guernsey, Jersey and the Isle of Man. (Guernsey Bailiwick includes Guernsey and the Islands of Alderney, Sark, Brecqhou, Herm, Jethou and Lihou)
The fourteen British Overseas Territories are: Anguilla, Bermuda, British Antarctic Territory, British Indian Ocean Territory, British Virgin Islands, Cayman Islands, Falkland Islands, Gibraltar, Montserrat, Pitcairn Islands, Saint Helena including Ascension Island and Tristan da Cunha, Sovereign Base Areas of Akrotiri and Dhekelia in Cyprus, South Georgia and South Sandwich Islands, Turks and Caicos Islands.