May's loses another member of her inner circle; Johnson says "people want government to get on with its job"
Friday, July 28th 2017 - 11:30 UTC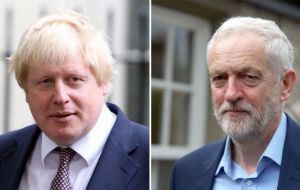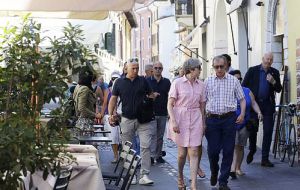 British Prime Minister Theresa May has lost another member of her inner circle after her strategy director and chief speechwriter Chris Wilkins quit. Wilkins follows the prime minister's Joint Chiefs of Staff Nick Timothy and Fiona Hill, and policy chiefs John Godfrey and Will Tanner, who also resigned after the disastrous snap general election in June, which led to the Conservatives losing their majority in the House of Commons.
"I always planned to leave but agreed to stay on after the election until the summer, and will be leaving at the end of the week," Wilkins said. "I continue to support the prime minister and wish her and the team inside [No. 10] well for the future."
He will return to private consulting, according to a senior official in the prime minister's office.
Wilkins is credited with writing May's famous "nasty party speech", delivered at the Conservative Party's 2002 conference, which later marked May out as a modernizer. A Conservative Party veteran, he previously worked with the prime minister when the Tories were in opposition and was also a special adviser to Nicky Morgan when she was education secretary.
The state-school educated aide, who grew up in Barry in South Wales, was a key architect, along with former joint chief of staff Timothy, of May's pitch to "just about managing" families that defined her agenda at the beginning of her premiership.
He was at May's side during key moments of her first year in power, writing her Conservative Party conference speech in October, with Timothy according to The Guardian. He travelled to Washington with the prime minister in January when she became the first world leader to meet U.S. president Donald Trump after his inauguration, the Times reported, and was involved in her Lancaster House speech setting out Britain's Brexit plan in January.
Wilkins was unhappy with how the election was handled and felt sidelined by campaign strategist Lynton Crosby, according to the senior official. He said he would help steady the ship after the election and now feels he has done that, the official added.
Separately, the ousted Conservative MP Stewart Jackson has been hired as a top aide to Brexit secretary David Davis. Jackson, a Brexit campaigner who lost his Peterborough seat in the June U.K. general election, tweeted about his appointment as a special advisor and chief of staff to Davis, and said he was honored to have been offered the role.
However all the adversities faced by PM May, "the British people want the Government to get on with its job", at least, according to the foreign secretary Boris Johnson.
Asked if it was time for the prime minister to be 'pole-axed', Mr. Johnson joked: "We have very good relations with the Poles. So I don't see any prospect of a Polish attack on Theresa."
He conceded that the General Election had not gone according to plan for the Conservatives, but said it was "overwhelmingly the desire of the British public" that the current Government succeeds.
He added: "Theresa May, to her great credit, gripped what was admittedly a difficult situation. She totally gripped it, she did a good deal with the Ulster unionists, she's bubble-gummed the whole thing together and we are going to get on with it.
"I tell you why I am confident about this. It is going to work because it is overwhelmingly the desire of the Conservative Party that it should work.
"It is the desire of many Labour MPs that it should work, because they are genuinely terrified of the prospect of Prime Minister Corbyn – as by the way they should be.
"And it is overwhelmingly the desire of the British public, because they didn't really want an election, they wanted us to get on and deliver for them.
"'They don't want any more political kerfuffle. They want certainty, stability, a great Brexit and then, as we do a great Brexit, they want us to attend to their needs and their cares and get a better educational system and keep improving our healthcare, keep attending to the priorities of the people".
Meantime PM May and her husband Philip have been photographed enjoying the start of their holiday in northern Italy. Downing Street released pictured of the Prime Minister walking around the town of Desenzano del Garda, by lake Garda The couple will spend five days in northern Italy, before breaking off from her holiday to attend commemorations of the centenary of the battle of Passchendaele in Belgium.