Decisive vote in Brazilian lower house for president Temer's future in office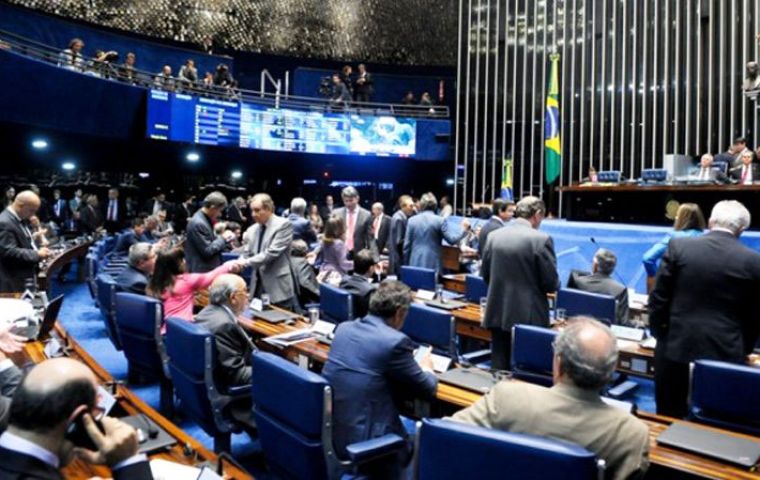 The Brazilian Congress will return from recess this week and could bring back political uncertainty fears to local markets, as lawmakers are set to decide on Wednesday if the Supreme Court should trial President Michel Temer for corruption. Temer was formally charged with passive corruption by the prosecutor-general Rodrigo Janot at the end of last month.
However, the House of Representatives and the Supreme Court must accept the charges against the president before any trial can begin.
Earlier in July, a report from Sergio Zveiter, the congressman in charge of guiding the House of Representatives vote on Temer's corruption charge, said that lawmakers should allow Temer to be accused and trialed.
Temer's allies, however, replaced 17 of the 66 members of the committee that would vote on the report and managed to change that guidance. Now, the report says that lawmakers should dismiss the charges.
Analysts believe that lawmakers would hardly confront their voters to save the president, whose approval rate is at 5%. Even so, the government seems confident that the opposition will not gather the 342 votes - from a total of 513 - required to advance with the corruption charge.
On Wednesday, two lawmakers allied to Temer will defend him on the House floor, while two opposition representatives will argue in favor of authorizing the Supreme Court to trial the president. After that, lawmakers will vote to end the debate.
The corruption charge against Temer is blocking votes on other legislation, like the pension system reform bill. Experts believe that the government could lose support for the reform if the political turbulence persists - particularly if new charges involving corruption target Temer.
Another bill waiting for a House vote would allow foreign companies to hold a controlling stake in Brazilian airlines. The current law limits the share of foreign companies in local airlines to 20%.
In the Senate, the end of the recess means the resumption of congressional investigations aimed at financing decisions from the National Bank for Economic and Social Development (BNDES) and potential corruption in the world-class meat packer JBS.
Senators are also set to debate the political reform bill, which intendeds to change the election's financing system, the functioning of parties and even the voting model.