Argentine Peso rises against the US dollar as Central Bank shows its muscle
Tuesday, August 1st 2017 - 07:06 UTC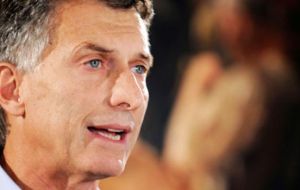 Argentina's Peso rose against the dollar on Monday for the first time in two weeks, after the central bank intervened in the foreign exchange markets on Friday to halt the currency's rapid decline to historic lows, when it reached 18 Pesos.
The peso rose 0.86% on Monday to 17.65 per dollar, its sharpest single-day gain since April, after touching a record low of 17.80 per dollar on Friday. The rebound came after the central bank sold US$305 million in reserves on Friday, its first sale in foreign exchange markets since June 2016.
The currency closed July down 5.8%. While government officials and the central bank have played down the risks of currency declines against the dollar, the recent drop's speed was out of line with fundamentals and could increase already high inflation, economists said.
President Mauricio Macri let the currency float shortly after taking office in December 2015, removing the controls that former populist President Cristina Fernandez put in place to prop up the peso and protect dwindling foreign reserves.
The central bank said in April it wanted to boost reserves, but it has been hampered by stubbornly high inflation and the sharp devaluation. Central bank President Federico Sturzenegger told reporters earlier this month that increasing reserves was still a goal but that there was no time line.
The peso had been stronger than expected earlier in the year, and remains below the expectation in the national budget for an average exchange rate of 17.92 per dollar for the year. However government officials have said privately that the 18 Pesos is the top mark and will intervene when necessary.
But with legislative elections approaching in October, in which Fernandez is likely to win a Senate seat, investors have taken profits and hedged portfolios with dollar-denominated assets. A primary vote for Congress, seen as a dry run, is two weeks away.