Ecuadorean vice president stripped of his authority over corruption allegations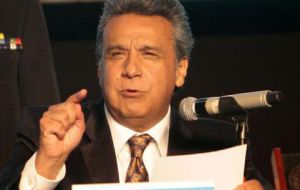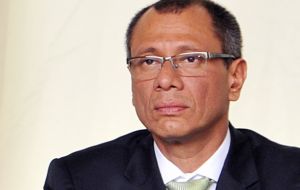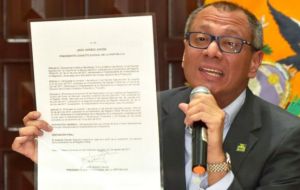 Ecuadorean President Lenin Moreno stripped his vice president of his authority Thursday over corruption allegations that emerged amid a battle for power within their ruling leftist coalition. In a signed decree, Moreno said he was withdrawing all the tasks that had been assigned to Vice President Jorge Glas since both took office in May, which included overseeing a production council and earthquake reconstruction.
Moreno said loyalty implies serving the country in unity, "which has not been duly (carried out) by the vice president," according to the decree.
The move came after a defiant letter from Glas the previous evening and on the heels of a recently surfaced audio recording in which an executive at Brazilian construction giant Odebrecht and an Ecuadorean official discuss alleged bribe requests by Glas in exchange for public work contracts awarded by former President Rafael Correa's government.
In the Odebrecht pay list published by O Globo, one of the recipients is identified as Jorge Vidrio, which in Portuguese/Spanish translates as glass.
Glas has denied wrongdoing, citing a lack of evidence, and in turn accuses Moreno of betraying Correa's trust and legacy.
In the letter, Glas told Moreno his recent election came thanks to "the trust of an entire political movement that allowed you to be the candidate." He accused unidentified presidential allies of lying and attacking "the honor of those of us who have worked for the country."
Both Moreno and Glas served as vice president under Correa, but deep fissures have emerged in what was once a solid political coalition under the previous president.
Correa campaigned with Moreno but later accused his political acolyte of "disloyalty" and pursuing "mediocre" policies that would undermine his legacy, before heading off for an extended vacation in Europe last month.
Correa has shown himself to be irked by Moreno's negotiations with sectors that Correa fiercely opposed, and accuses him of falsifying numbers on inherited external debt. On Thursday he criticized Moreno's decision to sideline the vice president.
"Oops! The 'dialogue' has only been for those who hate the Revolution!" Correa tweeted. "Onward, JORGE. Take it as a badge of honor."
Tensions first surfaced during the presidential campaign when opposition politicians accused Glas of heading up a network that allegedly received millions of dollars in bribes from Odebrecht, which has been involved in a graft scandal spanning much of the region.
No proof or formal complaint against Glas has been produced, however. Odebrecht has acknowledged paying bribes worth US$33.5 million to Ecuadorean officials for public contracts.
Prosecutors are reviewing 30 Odebrecht contracts with Ecuador between 1980 and 2015, including some granted during Correa's administration worth about US$1.6 billion.