Falklands' hosts Montserrat top official as part of UK's Territory to Territory Partnership
Thursday, August 10th 2017 - 07:09 UTC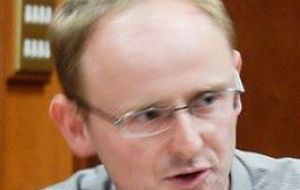 A leading Montserrat official is visiting the Falkland Islands for a week as part of a Territory to Territory partnership initiative between the two islands that was initiated last year. The Caribbean island British Overseas Territory Minister of Agriculture, Trade, Lands, Housing, and Environment, Claude E.S. Hogan arrived on the Falklands on the 7th August 2017.
The objective of the 'T2T' partnership is to establish long term links and collaboration between the two UK OTs in relation to issues the islands have in common – fisheries, marine spatial planning, and data management.
The UK Government is facilitating the visit through the Joint Nature Conservation Committee as part of JNCC's Overseas Territories programme , supported by the Conflict, Stability and Security Fund (CSSF) administered by the Foreign and Commonwealth Office (FCO).
Significant elements of JNCC's work in Montserrat are contracted out by JNCC to the Falklands-based South Atlantic Environmental Research Institute (SAERI), and as such SAERI staff have visited Montserrat last year and earlier this year to provide expertise and support in data management, fisheries and marine spatial planning.
"It will be wonderful to spend time on the Falklands with my Overseas Territories counterparts" said Mr Hogan "Montserrat is very keen to further develop the Territory to Territory partnership that we have established, and it is important that we both visit each other's islands to really understand how we can work together to share and develop ideas."
Falklands' lawmaker MLA Michael Poole agreed "I have fully supported this partnership between the Falklands and our sister island in the Caribbean, as we both have a common understanding of working on small islands and have good skills and experiences to share with each other. I would like to extend a very warm welcome to Minister Hogan and hope that enjoys his time on our beautiful islands."
Minister Hogan's program for the week will see him visit and spend time with his MLA Portfolio counterparts, other politicians, officials and non-governmental organisations in a range of sectors on island inclusive of Agriculture and Fisheries to get a broad understanding of what can be shared, the methods and strategy for sharing best practices and know-how from the Falklands.
"We are very excited to be hosting Minister Hogan" added Dr Paul Brickle, SAERI Director "our two visits to Montserrat have been very interesting and productive and we hope that we can offer an equally interesting experience to Minister Hogan during his time in the Falklands."