Argentine stocks and the Peso strengthen following Sunday primary results
Tuesday, August 15th 2017 - 23:49 UTC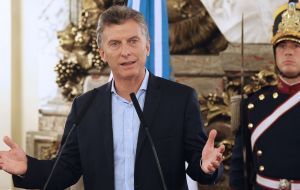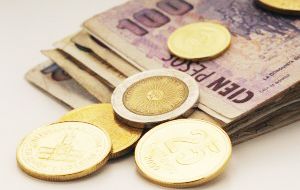 Argentine stocks rose, the peso strengthened more than 3% and credit default swaps fell on Monday after the mid-term legislative primary election was seen as favoring business-friendly President Mauricio Macri's reform effort.
With 95.68% of polling stations counted in crucial Buenos Aires province, Macri's favored candidate, Esteban Bullrich, had 34.19% of votes for a Senate seat, versus 34.11% for former populist leader Cristina Fernandez.
Fernandez had been expected to win by several percentage points, according to the final polls last week, causing investors to fear a comeback in Congress could pave the way to her running for president in 2019 and ending Macri's reform agenda.
No matter how many seats Macri's "Let's Change" coalition picks up in October - when Argentines elect one-third of the Senate and half the lower house of Congress - Macri will still lack a majority and must build alliances to pass reforms. However, analysts said less support for Cristina Fernandez would strengthen his negotiating position.
"The government is still in a coalition and requires the support of other parties," James McCormack, global head of Sovereign and Supranational Ratings at Fitch said. "That won't be changing, but maybe it gives that coalition a little more impetus."
JPMorgan's Argentina bond index showed yields tightening 27 basis points. Five-year credit default swaps fell 18 basis points to a nearly seven-week low and the Merval stock index rose 3%.
Argentina's peso had weakened around 9% as of Friday afternoon since Cristina Fernandez broke with more moderate factions of the Peronism movement and declared her candidacy on June 24.
"'Let's Change' has a favorable result on a national level, always 35 to 36%, a successful minority and facing a divided opposition," said political analyst Ricardo Rouvier.
Fernandez was president from 2007 to 2015 and was indicted for corruption last year.
Under Argentina's election system, the winning party in each Senate race gets two of the province's three seats, with the remaining seat going to the second-place finisher.
A second-place finish would still grant Fernandez, 64, a seat, which would give her immunity from arrest, though not from trial. She dismisses the corruption accusations as politically motivated.
Most political analysts agree that previous primary experiences in Argentina show that the winning party or alliance usually manages to advance a few points further in the following midterm elections, this time scheduled for 22 October.