Air carrier HMS Queen Elizabeth arrives at her home port of Portsmouth
Wednesday, August 16th 2017 - 09:39 UTC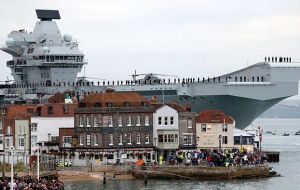 HMS Queen Elizabeth, Britain's newest Aircraft carrier arrived at its home port of Portsmouth this Wednesday morning for the first time. The 280 meters long carrier is currently undergoing sea trials since it left Rosyth dockyard in Scotland in June.
Built at a cost of £3.1 billion, the carrier is capable of deploying helicopters as well as the new F-35B Lighting fighter jet which will begin trial flights from the carrier's deck next year.
In a statement earlier this month, the Defense Secretary Sir Michael Fallon said that the carrier would be sent "across the seven seas, using her strike power to deter our enemies".
HMS Queen Elizabeth was also greeted with a fly pass from the Fleet Air Arm, including Wildcat and Merlin helicopters and Hawk jets.
Sir Michael Fallon has welcomed the carrier's arrival in its home port for the first time. He said: "Today we welcome our mighty new warship, HMS Queen Elizabeth to her home for the very first time. She is Britain's statement to the world: a demonstration of British military power and our commitment to a bigger global role.
"The thousands of people across the UK who have played a part in building her and her sister ship, HMS Prince of Wales, should be immensely proud as our future flagship enters Portsmouth. She has made good progress in sea trials and will now embark on the next phase of preparations that will see the return of Britain's carrier strike ability.
"When she enters service she will help keep Britain safe at a time of increased threats, able to fill multiple roles from providing air power anywhere at any time to fight future campaigns, supporting allies or delivering humanitarian aid."