Major Chinese vessel caught poaching sharks in Galapagos Islands Marine Protected Area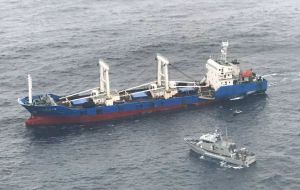 Authorities in Ecuador have detained the crew of a Chinese fishing boat suspected to have caught hundreds of endangered sharks in the Galapagos Islands. The Fu Yuan Yu Leng 999 was found Sunday in the archipelago, which is a marine reserve, carrying 300 tons of fish.
Most of the catch was sharks, including protected species such as hammerheads. About 20 crew members face up to three years in prison if found guilty of trafficking protected species. The Galapagos archipelago is an UNESCO world heritage site because of the rich bio-diversity found in the area, and fishing is strictly forbidden.
Ecuador's environmental minister Tarsicio Granizo said on Tuesday that a judge on the island of San Cristobal had ordered the crew to be held in custody pending court proceedings.
"Not necessarily all of the catch came from the marine reserve, but the fact that it included young sharks, even baby sharks, indicates that they could have been caught inside the reserve," the minister was quoted.
Walter Bustos, the director of the Galapagos National Park, told Ecuadorian newspaper El Universo that the boat was the largest vessel captured inside the marine reserve.
The Galápagos National Park has the greatest abundance of sharks known in the world. It's this that has made these waters a target of fishermen looking to supply Asian markets with shark fin and shark meat. Worldwide, shark populations are declining, with more than a quarter of sharks and related species considered to be threatened with extinction.
Minister Tarsicio Granizo, said the government is committed to protest the country's resources. "Our policy is zero tolerance for the transport and trafficking of protected wildlife," he said. However China is Ecuador's largest creditor, providing some 60% of the government's funding, and critics have accused Ecuador of being lenient with Beijing when it comes to protection of timber and other natural resources in the Amazon rain forest.
Conservationists suspects the vessel is a "mothership," or reefer, which collects fish from smaller fishing boats, allowing them to stay out at sea longer. It's more than 300 feet long with six cargo bays, several of which were completely full. The ship's log says there are about 300 tons of fish on board, according to the statement.
"It's illegal to cross the marine sanctuary's waters without a permit, and it's also illegal to catch, trade, or transport sharks there. Authorities do not yet know where the fish were caught", according to a statement from Ecuador's environment ministry.
In 2015 Ecuadorian police seized about 200.000 shark fins that were set to be exported to Asia. Shark fin is considered a delicacy in Chinese cuisine, and is usually served as a soup at banquets. Critics say demand for fins is wiping out endangered species and fuelling illegal trafficking.
The fins were discovered after raids on nine locations in the port city of Manta. Six people, including a Chinese national, have been arrested on charges of damaging wildlife.
The Interior Minister at the time said at least 50,000 sharks had been killed by the traffickers. He said the authorities had "dealt a major blow to an international network that trafficked shark fins".
"We must end these criminal networks that are only interested in their own economic interests and are destroying the eco-system."