Brazilian economic activity (and optimism) picking up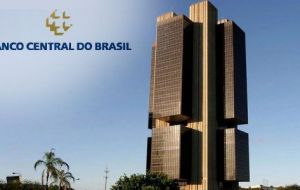 Economic activity in Brazil expanded at a faster pace than expected in June, the latest in a batch of reports suggesting an economic recovery may be taking hold. Economic activity rose 0.50% from May after seasonal adjustments, the central bank said on Thursday.
The central bank also revised the previous month's reading to show a 0.37% decline, smaller than the originally reported 0.51% drop.
The reading suggests aggressive interest rate cuts may be having some effect on Latin America's largest economy as it emerges from its deepest recession in decades.
The central bank reduced the benchmark Selic interest rate to the lowest in four years as inflation plunged below the bottom end of its target range. Economists widely expect rates to fall even more, providing support to the still-ailing economy.
Optimism over Brazil's economic prospects has been growing after retail sales and industrial output figures handily beat expectations this month, driving forecasters such as JPMorgan Securities to consider raising their gross domestic product estimates for the second quarter.
The central bank's activity index rose 0.25% in the second quarter, down from a 1.2% increase in the first quarter.