Baton's subpolar stopover in Falklands before Europe
Saturday, August 19th 2017 - 10:25 UTC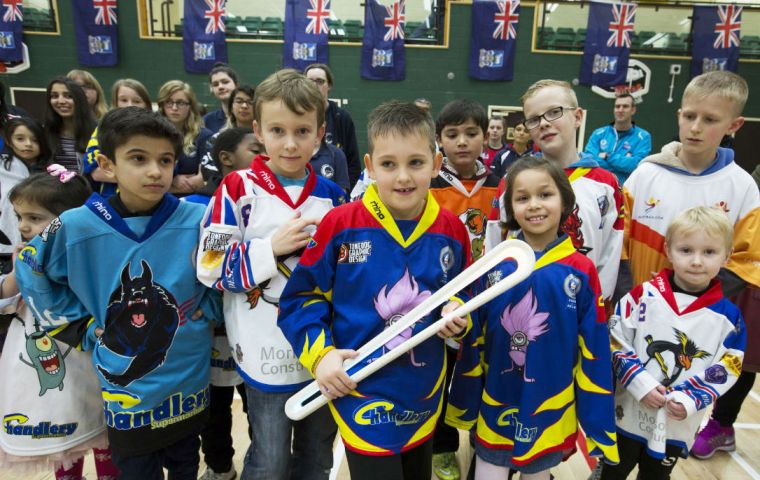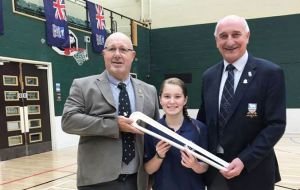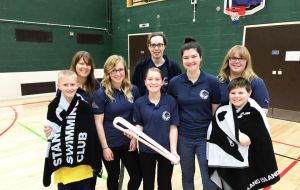 The Commonwealth Games Queens Baton visits all 71 Commonwealth countries and territories on its journey from Buckingham Palace to the host city. In 2018 that is Gold Coast in Australia; one territory is missing from the relay, because it has not been possible to schedule St Helena this year. However several Saints saw and carried the baton in the Falkland Islands, so we have helped a little bit.
The Baton touched down at the Royal Air Force (RAF) station at Mount Pleasant only briefly before taking to the skies again, this time in an S-61 helicopter with Commander British Forces South Atlantic Islands Brigadier Baz Bennett OBE.
Just before the weather closed in, the Baton was brought safely back to land to continue its journey in the hands of rugged-up youngsters from the military base's 2nd Falklands Scout Group Mount Pleasant.
The Falklands may be one of the Commonwealth's more geographically remote territories, but it shares the British Empire's legacy of sports, evident in the number of people who take part in sport for enjoyment at a grass roots level.
Not even subpolar temperatures stop these hardy southerners from enjoying the outdoors and sports, whether it be golf, hockey or the most traditionally popular pastime of shooting.
The Islands' military history, farming life and abundant wild geese population produce especially sharp shooters. Full bore, small bore, pistol and even archery are popular with all age groups. Shooters will make up the majority of Team Falkland Islands at the Gold Coast 2018 Commonwealth Games (GC2018) – the biggest competition that they will take part in flying their own flag.
Due to flight issues the Falklands part of the relay had to be squeezed into 24 hours, but our own mini-relay saw every available sports club take part in a joyful and colourful relay around Stanley, which included carrying the baton on foot, on skates, on cycles, on motorbikes and on horses from the FIDF Hall to the Leisure Centre, via the Memorial Wood, the Front Road and the busier parts of town. Everyone had the opportunity to join the relay at any point, to take part, and to take away memories of the 2018 relay.
The Falklands team of 16 will represent badminton and 3 disciplines of shooting at the Games in April, in a celebration of sport and human values.
"We all look forward to a great games in Australia" said Mike Summers MLA, Falkland Islands Overseas Games Association Chair. (Penguin News)
The Queen's Baton visits Falkland Islands