Temer prepared to privatize one of Brazil's jewels of the crown
Wednesday, August 23rd 2017 - 09:55 UTC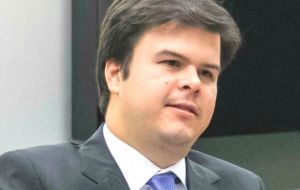 Brazil's surprise move to privatize Centrais Eletricas Brasileiras SA sent the utility's shares soaring nearly 50% on Tuesday as investors bet the plan augured further moves to loosen the government's grip on the economy.
The transaction should be concluded by mid-2018 and could involve the sale of new stock to help replenish the capital of Eletrobras, as the holding company is known, Mines and Energy Minister Fernando Coelho Filho revealed.
While the plan involves the end of federal government voting control at Eletrobras, it remains to be decided how much of its 51% voting stake will be sold and how, deputy Finance Minister Eduardo Guardia said. Proceeds should help cut the deficit, he said, noting the plan could also bring recurring revenue under certain conditions.
President Michel Temer has rushed to sell state assets and shrink the size of Brazil's government before leaving office in December 2018. Investors cheered his efforts to reduce state meddling in an economy hobbled by a three-year recession, lifting the benchmark Bovespa stock index on Tuesday past 70,000 points for the first time in almost seven years.
The plan comes as Chief Executive Officer Wilson Ferreira Jr's turnaround has taken longer than expected because of years of mismanagement at Eletrobras and massive operational losses between 2012 and 2015.
Investors said the Eletrobras plan stoked optimism that Temer remains committed to shrinking the role of the state in the economy, regardless of political resistance to his administration.
"This could be extended to other state firms, which is good for fiscal and market reasons," said Victor Carvalho, a partner at fund manager LAIC-HFM in São Paulo.
According to Coelho Filho, Eletrobras's privatization could raise up to 20 billion reais. The federal government will remain a shareholder and reserve the right to veto some strategic decisions.