Venezuela ousted chief prosecutor says she has evidence of Maduro and allies corruption
Thursday, August 24th 2017 - 10:07 UTC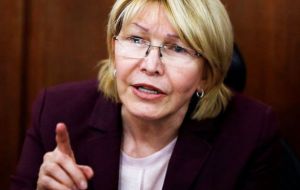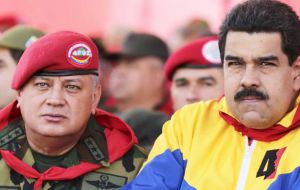 Venezuela's recently ousted chief prosecutor accused President Nicolas Maduro and several allies on Wednesday of participating in acts of corruption, saying she would turn over proof that would help other countries prosecute. Venezuela's government quickly fired back, accusing Luisa Ortega Diaz of "grave moral and ethical infractions."
Ortega spoke during a meeting of Mercosur trade bloc prosecutors in the Brazilian capital, Brasilia. Ortega was removed by a new, pro-government constitutional assembly in early August after breaking with Venezuela's socialist government. She fled abroad with her husband, whose arrest was ordered by the country's supreme court.
"I want to denounce, in front of the world, a grave situation in Venezuela: that of excessive corruption," Ortega said. "Because of that reason, (Maduro's administration) is violating the constitution and law to protect itself."
Ortega said she had evidence implicating Maduro and other top officials in corruption involving Brazilian constructor Odebrecht and other companies.
Ortega told reporters after the meeting that Maduro loyalist Diosdado Cabello received US$100 million from Odebrecht via a Spanish company called TSE Arietis, which was owned by cousins of Cabello.
She also claimed that Maduro was the owner of a Mexican company that Venezuela had contracted to provide basic foodstuffs. She said Group Grand Limited was registered in Mexico under the names Rodolfo Reyes, Alvaro Pulido Vargas and Alex Saab, but that Maduro was the real owner.
"It's impossible for cases to be investigated in Venezuela," said Ortega, adding that she was providing documentation to the United States, Brazil, Colombia and Spain.
Odebrecht has been at the center of the massive "Car Wash" probe in Brazil involving kickbacks for contracts. Over the last three years, dozens of Brazil's top politicians and businessmen have been jailed, including former Odebrecht CEO Marcelo Odebrecht.
The investigation has led to prosecutions in several countries in Latin America where Odebrecht and other Brazilian construction companies operated.
Hours later Ortega's replacement, Tarek William Saab, told reporters in Venezuela's capital that the accusations "lacked validity" and should presented to Venezuelan authorities. Saab called Ortega a "world tourist" who had been pushed out because of her own infractions.
Even if Ortega possesses strong evidence, however, it's not clear whether it could hurt Maduro's administration, which is already alienated from many of the region's countries.
While Brazil shares information with other countries related to the "Car Wash" investigation, authorities say they leave the prosecution of foreign nationals to justice officials in those countries.
Ortega's visit to Brazil came a day after Maduro claimed that she was working with Washington to damage his administration and said Venezuela would ask for an international arrest warrant for Ortega. It wasn't immediately known if that had been requested or if it would be considered. Mercosur has suspended Venezuela due to the crisis there.