Cristina Fernandez just manages to obtain the most votes in Buenos Aires Province Senate primary
Wednesday, August 30th 2017 - 07:42 UTC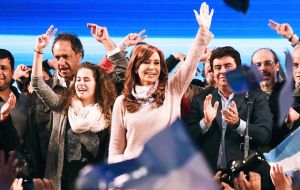 Argentina ex-president Cristina Fernandez group "Citizens' Unity" obtained a significant 34.27% of votes cast in the August 13 PASO primary (open, simultaneous and mandatory) in the province of Buenos Aires to choose Senate candidates for the October 22 midterm election, according to the definitive vote count.
Buenos Aires province is crucial not only because it holds 35% of Argentina's electorate, but also because of its political impact and thus the primary was seen as a dispute, almost a referendum, between Cristina Fernandez and Kirchnerism populist policies, and the current orthodox business friendly focus of president Mauricio Macri, which still has to deliver what it promised, and has cost jobs in the manufacturing belt surrounding the City of Buenos Aires.
Macri´s "Let's Change" coalition emerged in the August primary as the overall leading force in Argentina, and despite opinion polls indicating "a vote for the populist past" mostly in the highly politicalized, (and corrupt) province of Buenos Aires, its Senate candidates were defeated by only a "handful of votes", 20.324, out of a total turnout of 9.5 million votes cast: 3.229.194 (34.27%) against 3.208.870 (34.06%).
The long delayed announcement of the very tight dispute, could represent a temporary boost for Cristina Fernandez, who faces several corruption and treason cases, but at the end of the day it was far from the four to five points difference she was expecting to consolidate her political comeback ambition.
It has yet to be seen what consequences Cristina Fernandez tour of courts in the weeks leading to 22 October will have on her followers and loyal militants, but president Macri and the popular governor of Buenos Aires province, Maria Eugenia Vidal seem to have managed to consolidate a stronghold in Argentina's main electoral circuit, with strong possibilities of ensuring the Senate seats for ex Education minister Esteban Bullrich and Gladys Gonzalez.
The other hopefuls, Massa/Stolbizer managed 15.41% of the vote; ex Transport minister Florencio Randazzo, 5.94% and the extreme left and greens, 3.37%.
But Cristina Fernandez mild success in the Senate race, was quite different at the Lower House primary: her hopeful, economist Fernanda Vallejos managed two percentage points less than Macri's sponsored candidate Graciela Ocaña. In effect Ms Ocaña collected 3.240.499 votes (34.07%), while the Citizens Unity Ms Vallejos, 3.054.886 (32.12%).
Furthermore, Ms Ocaña actually had (11.000) more votes than Cristina Fernandez, 3.240.499 against 3.229.194. Finally the total number of votes cast was 9.510.311, including 87.720 null ballots (0.92%) and 346.216 blank, (3.67%).