Bachelet replaces top economic officials: dispute over Chilean mining policy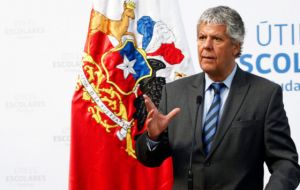 Chilean President Michelle Bachelet's top economic officials resigned on Thursday after the cancellation of a major mining project, weakening her center-left coalition before November elections. Finance Minister Rodrigo Valdes said in a news conference some members of Bachelet's government had not shared his sense of urgency to spur growth and attract investment to the world's top copper producer.
"I wasn't able to make everybody share this conviction," Valdes said, pointing to the need for discipline and clear rules for the private sector.
Valdes, who held his position for two years, had criticized the government's decision to reject a US$2.5 billion copper and iron project owned by Andes Iron last week on environmental grounds.
So had Economy Minister Luis Felipe Cespedes and Finance Undersecretary Alejandro Micco, who also stepped down. Cespedes, talking with reporters, did not respond when asked why he had quit. Micco's office declined to comment on his reasons for resigning.
Dominga, as the project is known, had become a symbol in recent months of the increasing difficulties of doing business in what remains one of Latin America's most open economies and laid bare philosophical differences within the government.
Bachelet said Valdes will be replaced by Nicolas Eyzaguirre, an economist in charge of legislative affairs for the president, while Cespedes will be replaced by Jorge Rodriguez, president of Banco del Estado de Chile.
"I don't think development is something to be done with your back to the people, where only the numbers matter and not what's happening to families," said Bachelet.
The shakeup was seen by some as a blow to the center-left and its presidential candidate Alejandro Guillier, who is generally supportive of Bachelet, and a boost for conservative frontrunner Sebastian Piñera.
"The correct solution is not a change of cabinet, it is a change of government," Piñera told journalists.
The Chilean peso strengthened over 1 percent after Valdes' resignation as traders bet the shake-up will make a Piñera win more likely and will make it tougher for the current government to push through a social security reform.
Eyzaguirre and Rodriguez, both centrists, served under Ricardo Lagos, a moderate who was president from 2000 to 2006.