US employment growth decreasing, but still strong; waiting for Harvey's aftermath
Monday, September 4th 2017 - 10:40 UTC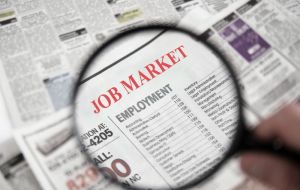 The US economy added 156,000 jobs in August, less than the previous month and below expectations. Analysts had expected US non-farm payrolls to rise by between 175,000 and 185,000 last month. Data released by the US Department of Labor also showed that employment growth in June and July was lower than originally estimated.
The department also announced that the jobless rate had ticked up to 4.4% from 4.3% in July. Previous data had put the number of jobs created in July at 209,000, but that has now been revised down to 189,000. June's reading of 231,000 jobs has also been cut to 210,000.
Weekly earnings rose at an annual pace of 2.5% in August, maintaining the same rate of growth since April.
Kully Samra, UK managing director at broker Charles Schwab, said that while the data was "disappointing" it should be viewed "in the context of solid US and global economic growth, strong earnings, low inflation and still-ample global liquidity".
The US Department of Labor pointed out that Hurricane Harvey had had "no discernible effect" on employment or unemployment figures for August because the data had been collected before the storm.
Mark Hamrick, senior economic analyst at Bankrate.com, said: "From an economic perspective, what the storm and flooding taketh away, the recovery and rebuilding effort will giveth."
He said that economic data will begin to show the impact of Hurricane Harvey "very soon".
"Among the first to feel it will be weekly unemployment claims as individuals file for jobless aid. As residents hunkered down, economic activity slowed to a virtual halt. That will reduce growth in the current quarter. But the billions of dollars to be spent in the coming weeks and months will lift growth after that."
The Labor Department figures showed that the manufacturing and construction sectors added the most jobs in August, up by 36,000 and 28,000 respectively.
Demand for workers in motor vehicles and parts production was particularly strong, as well as areas such as computer and electronic products manufacturing.