Battle of Brexit Repeal Bill begins; Labour objects since it "grabs power from Parliament"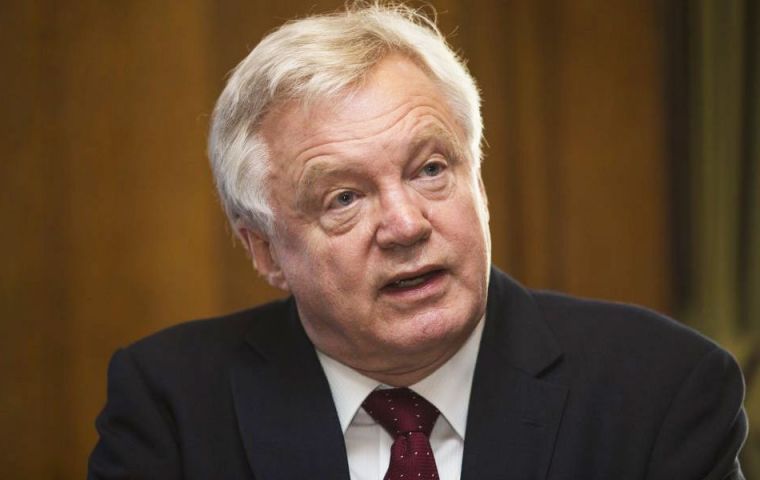 Britain's Labour will vote against the Brexit Repeal Bill because it will allow ministers to "grab power from Parliament" to slash rights at work and cut protection for consumers and the environment. The party's statement came as Brexit Secretary David Davis was preparing to deliver a House of Commons statement on a summer of negotiations which the European Union claims has failed to deliver "decisive" progress.
Mr. Davis was heckled by Labour MPs after claiming no-one pretended it would be "simple or easy" to make progress in Brexit talks. The Brexit Secretary faced jeers in the House of Commons as he said he always believed the negotiations would be "tough, complex and at times confrontational".
Davis added the UK must not lose sight of its overall aim to create a "deep and special new partnership" with its closest neighbors. He added the UK wants the talks to move on to the future relationship with the EU by October "if possible" – something the UK has previously expressed greater confidence over.
He told the Commons: "Last week we turned our considerations to the next round of talks and in that my message to the Commission was, let's continue to work together constructively but put people above process."
"To that end, my team will publish further papers in the coming weeks, continuing to set out our ambitions for the negotiations and a new deep and special partnership the UK wants to build with the EU."
"Ultimately, businesses and citizens on both sides want us to move swiftly on to discussing the future partnership and we want that to happen after the European Council in October, if possible."
"As colleagues know, at the start of these negotiations both sides agreed that the aim was to make progress on four key areas – citizens' rights, financial settlement, Northern Ireland and Ireland, and broader separation issues ", and "we've been doing just that."
As Opposition MPs laughed at this comment, Mr Davis added: "Nobody has ever pretended this would be simple or easy." This prompted further heckling and jeers before Davis added: "I've always said the negotiations will be tough, complex and at times confrontational – so it has proved."
"But we must not lose sight of our overarching aim – to build a deep and special new partnership with our closest neighbors and allies whilst also building a truly global Britain that can forge new relationships with the fastest growing economies around the world."
Labour will hope its decision to vote against the European Union (Withdrawal) Bill at second reading, the first stage of its passage through the Commons, which will begin on Thursday and end on Monday, can split the Tories.
But Tory Remainers signaled they will not vote against the Bill at second reading but could rebel during later stages. Senior Conservatives have warned against plans in the Bill for "Henry VIII" powers to change laws without full parliamentary scrutiny, creating a potential alliance with Labour which could cause problems for Theresa May.
A Labour Party spokesman said: "Labour fully respects the democratic decision to leave the European Union, voted to trigger Article 50 and backs a jobs-first Brexit with full tariff-free access to the European single market."
"But as democrats we cannot vote for a Bill that unamended would let Government ministers grab powers from Parliament to slash people's rights at work and reduce protection for consumers and the environment."
"Parliament has already voted to leave the European Union. But the Government's EU Withdrawal Bill would allow Conservative ministers to set vital terms on a whim, including of Britain's exit payment, without democratic scrutiny."
"Nobody voted in last year's referendum to give this Conservative Government sweeping powers to change laws by the back door. The slogan of the Leave campaign was about people taking back control and restoring powers to Parliament."
"This power-grab Bill would do the opposite."
"It would allow the Government to seize control from the Parliament that the British people have just elected."
The Government insists Henry VIII powers contained in the Bill will not be used to make significant changes, and only to make technical amendments to EU law through secondary legislation.