Argentine embassy disappointed with Falklands stand at the Prado show
Saturday, September 9th 2017 - 19:57 UTC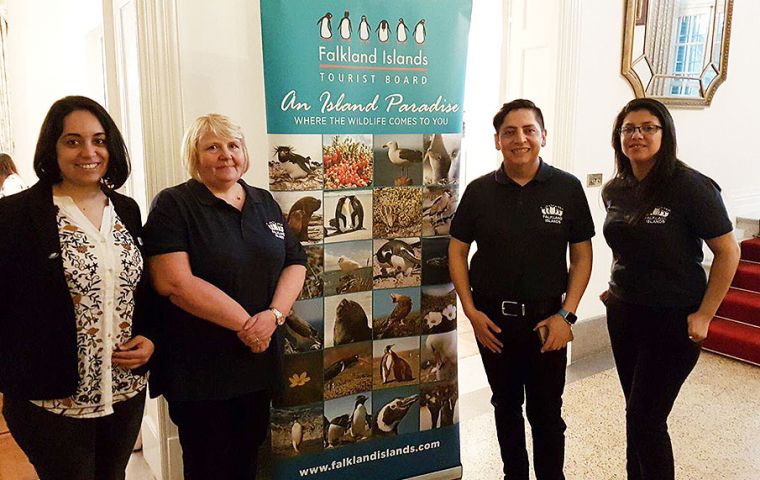 The Argentine embassy met with officials from the Uruguayan Rural Association, ARU, to express their disappointment since the Falkland Islands have a stand at the Great Britain pavilion in the Prado agro-industry show in Montevideo, according to a report from Television Nacional, which belongs to the Uruguayan government media complex.
The television report said that the Argentine representations in Uruguay consider the situation as "serious", and although there has been no formal complaint to the Uruguayan foreign ministry, they expect the ranchers' lobby, ARU, organizers of the show "to take action".
The Great Britain pavilion has hosted the Falklands stand for the fourth year running, and this kind of complaints have become an annual event. It was only during the first presentation which included a display which read Falkland Islands Government, that the sign had to be brought down following a demand from the Argentine foreign ministry which at that time was under the administration of ex president Cristina Fernandez.
The Falklands stand is sponsored by the Islands' government and private companies, and includes several Spanish speaking officials, and basically promotes tourism to the Falklands, "An Island paradise, where the wildlife comes to you", bilateral trade with Uruguay, plus agriculture, academic, social, education and health relations.
Trade and tourism relations between Uruguay and the Falklands are strong. Many of the cruise vessels that call in Montevideo during summer months, usually include the Falklands in their south Atlantic tour, and Montevideo is trans shipment port for much of the catches in that area.
Likewise many of the current Falklands' top officials in government and the private sector were partly educated in Uruguay, and the British Hospital in Montevideo and Clinica Alemana in Santiago de Chile receive many of the complicated medical cases and/or evacuations.