Sir Alan Duncan in Gibraltar to celebrate the Rock's National Day
Saturday, September 9th 2017 - 20:54 UTC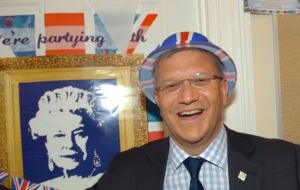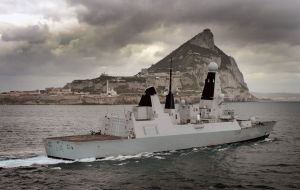 The United Kingdom will stand by Gibraltar, its people and its economy for as long as Gibraltarians wish to remain British, Sir Alan Duncan said ahead of an official visit to the Rock. Britain's Minister for Europe at the UK Foreign and Commonwealth Office arrived at the Rock on Saturday and will spend the weekend in Gibraltar celebrating National Day, 10 September, and the 50th anniversary of the 1967 Referendum.

"I'm delighted to travel to Gibraltar on my first official visit," Sir Alan said.
"I was fortunate to spend some of my childhood in Gibraltar and am pleased to see how Gibraltar has flourished and grown into the successful and prosperous place it is today."

"50 years ago Gibraltar voted to stay in the British family."

"The UK reaffirms its support for Gibraltar, its people and its economy, and will continue to do so as long as the people of Gibraltar wish to remain British."

Sir Alan is deeply involved in the UK's discussions with Gibraltar on Brexit and sits on the Joint Ministerial Committee that brings together the two governments. He will be hosted by Chief Minister Fabian Picardo and will attend Sunday's National Day rally.
Sir Alan will also attend a number of other events, including a concert by the Royal Philharmonic Orchestra.

He will join a sizeable cross-party contingent of MPs from the House of Commons and MEPs here to show their support for Gibraltar.

Ahead of the National Day celebrations, both MPs and MEPs descended on Casemates Square to sign the National Day banner.

In a National Day message to the people of Gibraltar, Bob Neill, the newly elected Chairman of the All Party Parliamentary Group for Gibraltar, also sent a strong message of support for the Rock.

"The British people are with you, we're here to show our solidarity and we really want to work together constructively to get the best for Britain and the best for Gibraltar going forward," Mr Neill said.

"We're all part of a family and it's really important that we celebrate that."
Tory MP Andrew Rosindell, who backed the Leave campaign but is a staunch defender of Gibraltar, said he had lost count of how many times he had travelled to the Rock, adding it "feels like coming home".

"I feel there is a spirit of optimism here like I've not known for some time," he said.

"I think that Britain and Gibraltar are bound together, we're going to stick together, we're not going to let anyone separate us; not the EU, not Spain, not anyone, we are going to stand together as one British family."

"National Day this year is going to be a great celebration as we remember 50 years ago and the decision to stay British in the referendum so this could not be a more joyous time to visit the Rock and I am very proud to be here."

UKIP MEP and regular visitor to the Rock Julia Reid told the Chronicle: "My party supports the people of Gibraltar and Gibraltar and we love Gibraltar and as long as we can, as long as we're able, as long as we're alive, we will always be thinking of Gibraltar and standing up for you to make sure that you have the ability to determine what you want."

SNP politician Angus MacNeil said: "I think it's very important that all people have the right of sovereignty and self-determination and as a Scottish nationalist we're delighted to see Gibraltar and its determination for self-determination."

"We in Scotland are quite happy to be British but not in the United Kingdom, which is exactly what Gibraltar has got at the moment."

The Royal Navy is also joining the event. HMS Diamond is in Gibraltar for a short visit before heading out to the Gulf on a nine-month operational deployment.

The Type 45 Destroyer was in Gibraltar a year ago and will shortly take over the Navy's long-standing commitment to the region from HMS Monmouth. HMS Diamond will be working with international and NATO allies to protect some of the world's busiest shipping lanes, keeping them free from criminal activities.

HMS Diamond is the third of the highly capable Type 45 air defense destroyers and one of the most advanced warships in the world. She has a ship's company of 260 personnel and is taking part in the celebrations this weekend.