Brazil's air commercial industry considers building a factory in China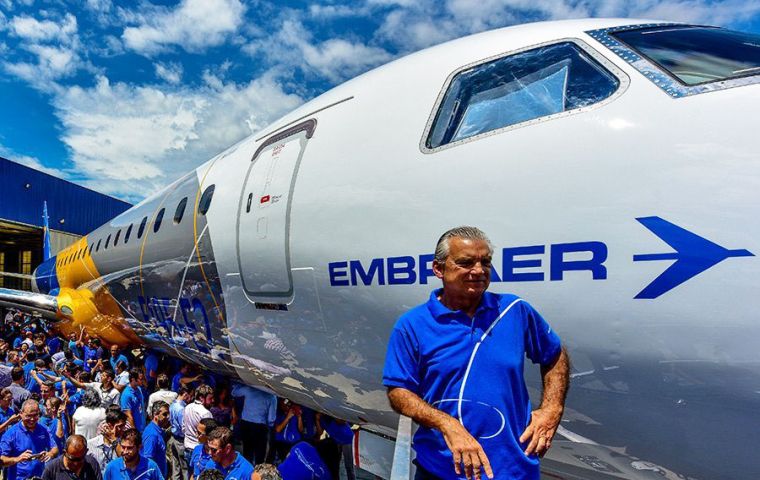 Brazilian aeronautical company Embraer plans to analyze the possibility of building a factory in China to manufacture jet aircraft for the commercial aviation segment, the company's chief executive said.
The company decided in June 2016 to end production of Legacy jet aircraft in China, bringing an end to a 13-year partnership with the Aviation Industry Corporation of China (AVIC).
Embraer produced those jet aircraft through Harbin Embraer Aircraft Industry (HEAI), a partnership with Harbin Aviation Industry and Harbin Hafei Aviation Industry, subsidiaries of the state-owned AVIC group.
Chief Executive Paulo Cesar de Souza e Silva, said the board of directors intends to bring the E195-E2 to the market in 2019, before considering building a factory in China, which would be the first outside Brazil for the production of commercial aircraft.
At a news conference in Singapore, Souza e Silva recalled a recent company report noting that China will require 1,070 regional aircraft by 2036, "precisely the type of aviation we produce."
Embraer also predicted in the report that from 2017 to 2036 China's demand for regional jet aircraft will account for 17% of the world total, with China having 137 such aircraft in operation in 2016.
Embraer leads the regional aviation market in the segment of jets with 70 to 130 seats with almost 80% of market share, and by July 2017 had 221 firm orders (187 commercial jets and 34 executive jets) and made 179 deliveries (145 commercial jets and 34 executive jets).