May reaffirms UK's Gibraltar sovereignty commitment in National Day message
Tuesday, September 12th 2017 - 08:42 UTC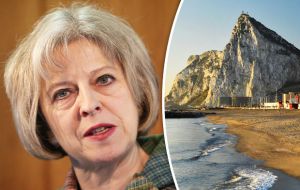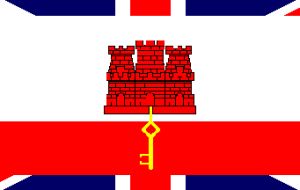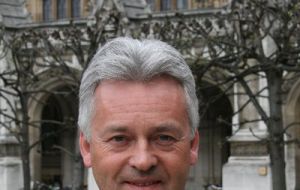 Prime Minister Theresa May has said the United Kingdom will stand by Gibraltar for as long as Gibraltarians wish to remain British, reaffirming the double lock sovereignty commitment as the Rock celebrated a historic National Day.
In a recorded message to the people of Gibraltar broadcast as part of Sunday's National Day celebrations, Mrs. May underscored the UK's double lock commitment on sovereignty and reflected on the "pivotal" referendum of 1967.
"On that day you made a choice, voting almost unanimously to remain British, and it is right that we celebrate that choice today 50 years on at a time when Gibraltar and the UK are closer than ever before," she said.
"As the UK negotiates to leave the European Union, Gibraltar will be fully involved. As we face the opportunities and challenges to come, the UK will continue to stand firmly beside you."
"We will resolutely safeguard Gibraltar, its people and its economy and Gibraltar will remain British for as long as it chooses to do so," Mrs. May said to applause. "So let us go forward together and seek to build a prosperous future for our whole UK family."
The crowd was again treated to a series of spectacles to round off the rally, ranging from blasts of confetti, fireworks, and blasts of red and white smoke and the helicopter drop of petals.
Taking to the stage, the Chief Minister Fabian Picardo was met with warm applause as he thanked Mrs. May for her message of support on National Day.
"When she became Prime Minister, Mrs. May told me that she would be a champion of Gibraltar's rights," he said. "She has stood up for Gibraltar when she has had to."
"She has committed herself and her Government to defending our sovereignty and our economy. And she has not let us down," Mr. Picardo said.
And although Mrs May could not be in Gibraltar in person, the UK reinforced its message of support for the Rock with a visit by the Minister of State for Europe and the Americas at the Foreign and Commonwealth Office, Sir Alan Duncan.
The presence of Sir Alan on stage, where he joined a sizeable cross-party contingent of MPs from the House of Commons and MEPs to show their support for Gibraltar, sent a strong message and provided an "extra layer of reassurance" as Brexit looms.
Sir Alan affirmed that the UK would not agree to any deal that does not safeguard the "agreed interests" of Gibraltar. Asked what the strength of feeling was for Gibraltar within the UK Government, he said: "It's very simple, we believe in the rule of law and the rule of law says that if Gibraltar wishes to remain British then they will remain British."
"It's two-fold, it's a basic rule which we stick with but also it's what we feel about it and we're very supportive and so we are enthusiastic about that rule of determining your own future as you choose."