UK's Blue Belt Initiative taken as reference at the International Marine Protected Areas congress in Chile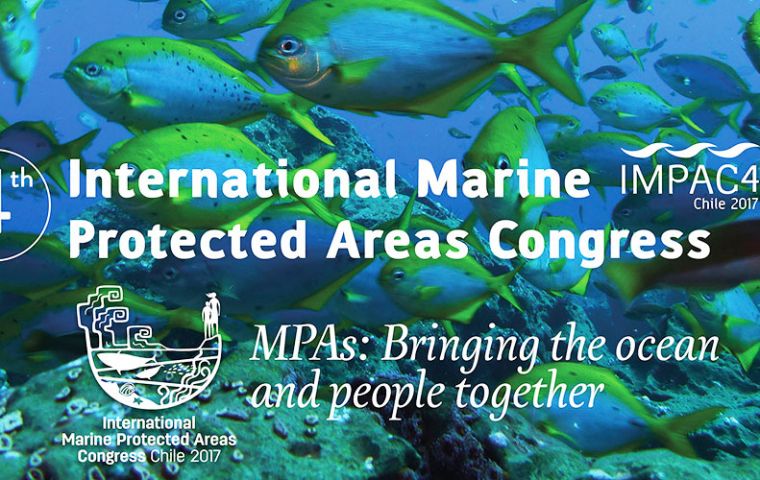 The British Embassy in Santiago participated this month with over 30 British delegates and a GREAT-branded stand at Impac4, the world's largest Congress on International Marine Protected Areas held in La Serena, a city located in the north of Chile. The Congress, hosted by the Chilean Ministries of Foreign Affairs and Environment, was followed by a High Level meeting in the city of Viña del Mar, near Santiago, Chile's capital.
About 1,500 world experts were present at the Congress, including government and NGO representatives, scientists and technology leaders. UK convened a delegation of over 30 British experts, led by the British Embassy Santiago, in partnership with the Overseas Territories Department of the UK's Foreign and Commonwealth Office (FCO). The UK's presence included a GREAT-branded stand and event to promote the UK's Blue Belt Initiative of Marine Protected Areas in the Overseas Territories. Also, the UK endorsed Impact4's Call for Action, which aligns with initiatives already undertaken by the UK government and other organizations.
The British delegation used the GREAT-branded stand to explain their programs and the UK's commitment to protect around four million square kilometers of ocean by 2020 -and how the UK is one of the world's leading nations with initiatives underway to meet the target to protect 10% of the world's ocean by that same year.
The delegation included representatives from the FCO's Polar Regions and Overseas Territories Departments, the Blue Belt Program, the National Oceanography Centre, the Marine Management Organization (MMO), the Centre for Environment, Fisheries and Aquaculture Science (CEFAS), the Royal Society for the Protection of Birds, the Satellite Applications Catapult, and the Universities of Plymouth and Edinburgh, among others. With the help of GREAT campaign funding, we were in an excellent position to promote the UK's Blue Belt initiative and the Marine Protected Areas around the UK and around the Overseas Territories.
The GREAT Britain campaign showcases the best of what the UK has to offer to inspire the world, and encourage people to visit, do business, invest and study in the UK. It is the Government's most ambitious international promotional campaign ever, uniting the efforts of the private and public sector to generate jobs and growth for Britain.