Brazil August beef exports increase 34% year on year: 145.822 tons
Tuesday, September 19th 2017 - 20:06 UTC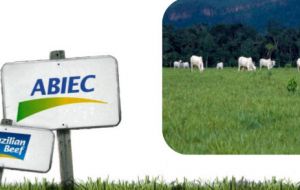 Brazil's total beef exports in August rose by 34% year-on-year both by volume and in revenue terms, industry group Abiec said on Monday, indicating the worst of a food safety scandal that rocked Brazil's protein industry may be over.

Abiec said Brazil shipped 145,822 tons of fresh and processed beef in the period, generating revenues of US$607 million, the highest amount for any month in 2017 and nearly a 13% rise from July.

The numbers signal the resilience of one of the world's largest beef exporters in the wake of a food safety probe that led to stricter sanitary controls in Brazil and its main export destinations.

In March, a federal investigation accused companies and food inspectors of colluding to evade safety checks, leading the government to promise an overhaul of food oversight and quality control systems.

The scandal led to temporary bans on Brazilian beef imposed in Hong Kong and the rest of China, among several other countries. Now, places with restrictions represent less than 1% of Brazil's total beef exports last year, Abiec revealed.

Hong Kong remains Brazil's largest beef importer by volume followed by Egypt and China, where Abiec said more Brazilian meatpacking units will be allowed to sell beef products, potentially doubling the volume of exports there.

August also marked a shift in the origin of the beef exported out of Brazil. Historically, São Paulo state was the largest exporter but since July Mato Grosso has taken the lead position, Abiec said.