Scotland and London discussing terms of devolution under Brexit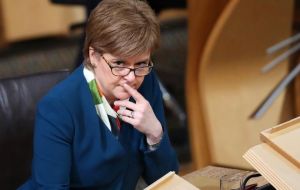 The Scottish government is to outline plans to amend the legislation taking the UK out of the European Union. The Scottish and Welsh governments call the EU withdrawal bill currently under consideration at Westminster a "power grab" of devolved responsibilities, and have worked together to draw up amendments as a direct challenge to the UK government's legislation.
UK ministers insist there is no "power grab" planned, and say the devolved parliaments will be enhanced by Brexit.
The UK government and the devolved administrations are locked in a dispute over what should happen to powers in areas such are fishing and farming which are not currently reserved to Westminster, but which are currently exercised in Brussels.
The current proposal in the EU withdrawal bill is for powers to first return to Westminster, before some are incorporated into UK-wide withdrawals and others are passed on to the devolved parliaments.
First Minister Nicola Sturgeon said this turns the founding principle of devolution - that all powers which are not specifically reserved to Westminster should be devolved - on its head.
Her government has been working together with the Labour government in Wales on opposition to what both the Edinburgh and Cardiff administrations call a "naked power grab".
Ministers point to a list of 111 powers which they believe should be returned to Holyrood rather than London. These include farm support, fisheries, genetically modified crops, environmental regulations, rail franchising rules and co-operation against crime.
The Scottish government has refused to put forward the withdrawal bill for a consent vote at Holyrood until the issue of where these powers reside is settled, and has drawn up changes it would want to see as part of this.
The Scottish Conservatives have said they want to work with the Scottish government to see where changes could be made, in a bid to convince them to bring forward a legislative consent motion.
Proposed amendments have already been published at Westminster, with some including Labour leader Jeremy Corbyn and Welsh nationalists Plaid Cymru tabling efforts designed to protect the role of devolved legislatures.
Scottish Secretary David Mundell has said that progress has actually been made in private talks between the governments, but has been "overshadowed by public rhetoric".