Maria Eugenia Vidal leads campaign in Buenos Aires province against Cristina Fernandez
Wednesday, September 20th 2017 - 19:16 UTC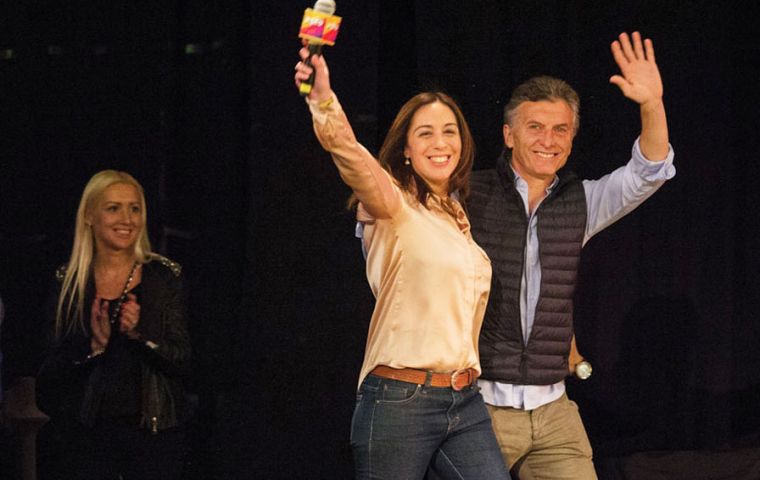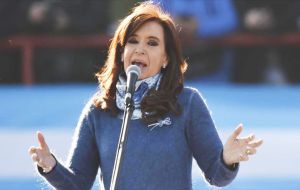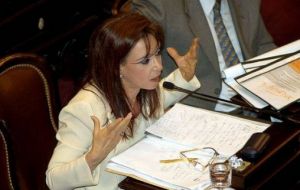 Argentine President Mauricio Macri's has picked Buenos Aires province governor Maria Eugenia Vidal to lead the campaign against a comeback by populist ex president Cristina Fernandez in October's legislative elections.
The governor who is even more popular than president Macri has been handed the role of ensuring Macri's "Let's Change" coalition wins more votes than Cristina Fernandez, who is running for a Senate seat in Argentina's most populous province.
Buenos Aires province is home to about 40% of Argentine voters, and the gateway to the presidency. Meanwhile investors eyeing Argentina's vast oil and mineral wealth want Maci's coalition to block any chance of his political nemesis Cristina Fernandez who ruled from two consecutive periods, 2007/2011/2015, returning to the presidency in 2019.
President Macri, a scion of a wealthy business family, has a positive image with 44.2% of those polled in Buenos Aires province, with Cristina Fernandez trailing at 35.1%, according to the Observatorio Electoral survey distributed on Tuesday afternoon. Maria Eugenia Vidal however, comfortably bests them both with 49.8%.
Argentina's electoral list system guarantees that Cristina Fernandez will win one of the three Buenos Aires province Senate seats up for grabs on Oct. 22.
Even though Cristina Fernandez is loved by millions of poor Argentines for her generous social spending, her critics say her growth-at-all-costs policies stoked inflation and distorted the economy through heavy currency controls during her 2007-2015 administrations.
Investors in Argentina's US$550 billion GDP economy are therefore focused on how many votes Cristina and her list of congressional candidates get versus Macri's coalition.
"This election is about electoral power and Cristina's ability to make a comeback. It is not about legislative power," said Julio Burdman, head of local polling firm Observatorio Electoral, referring to the mid-term vote.
"Vidal is like Captain America. She was created as a super-soldier for Macri to win his war against Cristina," he added.
Vidal, a former welfare administrator known for her common touch with working families, has become a political juggernaut just when Macri needs her to deflect fallout out from his unpopular subsidy cuts and other fiscal tightening measures.
Some 38.2% of respondents in the Observatorio Electoral poll said they plan to vote for the list headed by Macri ally Esteban Bullrich, a little-known former education minister. After making a series of gaffes early in the campaign, he has been accompanied by Vidal at most rallies.
Cristina Fernandez's list trailed with 35.8% in the opinion poll. The difference was within the survey's 3.2 point margin of error. Taking into account the undecided, it is still anybody's race.
Governor Vidal is meanwhile walking the province, ringing doorbells and taking to the airwaves as a bulwark against Fernandez. In what has become a typical event aimed at weakening Fernandez among her core supporters, Vidal and Macri visited the suburb of Berazategui on Monday to meet with textile workers.
A poll over the weekend by consultancy Elypsis showed Vidal was Argentina's most popular politician. She is especially strong in the poor, heavily populated Buenos Aires suburbs, a traditional base of Fernandez support where Macri remains relatively unpopular.
The former president was indicted for corruption last year. A seat in Congress would give her immunity from arrest, although not from trial. She dismisses the corruption accusations as politically motivated.
It is Vidal's job to make sure Fernandez's support does not grow beyond the 34% she got in last month's primary vote, in which she beat Bullrich by less than a percentage point. Polls have generally shown him gaining since then.