Argentina claims at UN its Falklands/Malvinas "legitimate and imprescriptible" sovereignty rights
Thursday, September 21st 2017 - 06:36 UTC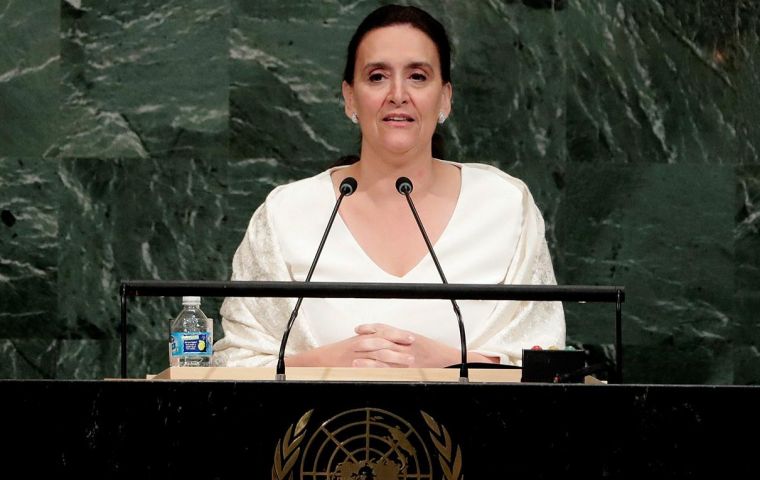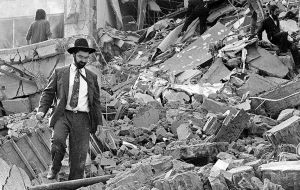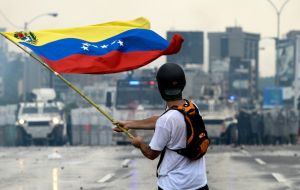 Argentine vice-president Gabriela Michetti ratified before the United Nations General Assembly her country's "legitimate and imprescriptible" sovereignty rights over the disputed Falkland/Malvinas Islands and made a new call on the United Kingdom to resume "bilateral negotiations"
Ms. Michetti addressing the 72nd General Assembly on Wednesday afternoon, in New York, called to seek a peaceful solution to the territorial conflict, "respecting the way of life of the Islanders".
In this context, Ms Michetti who is replacing president Mauricio Macri in the midst of crucial midterm elections campaigning, pointed out that the current Argentine government is involved in a new climate "in relations between the two countries", and expressed hopes that "both governments could sit at the negotiations table".
"We hope this new approach contributes to create the conditions for both governments to be able to sit at a negotiations table with the purpose of solving this prolonged sovereignty controversy, in conformity with General Assembly and Decolonization Committee resolutions", insisted Ms Michetti underlining the relevance of dialogue.
The Argentine vice-president also targeted on two other issues as the heart of her speech, terrorism and Iran, and Venezuela. She started by condemning all forms of terrorism and reiterated the determination of Argentina to take to court all those involved in financing, planning, preparing or committing terrorist actions, referring specifically to the two attacks in Buenos Aires in 1992 and 1994, against the Israeli embassy and a Jewish community association, AMIA, which killed dozens of civilians.
"Continuing to advance with the investigation into the AMIA attack, this demands that those accused are taken to court and collaborate with the investigation. We don't want another twenty years to elapse without justice. That is why we are asking the international community to help us with the collaboration request to Iran, to help solve this terrorist attack"
Regarding Venezuela, Ms Michetti called for "a reliable and good faith effort, with consensus from all sides and oriented to achieve peacefully the reestablishment of democracy in Venezuela". Two days ago the Argentine leader shared dinner with Donald Trump, Brazil's Michel Temer, Juan Manuel Santos from Colombia and Panama's Juan Carlos Varela, to address the Venezuelan situation.
Further on the vice president said Argentina is betting on investment to create jobs and to this respect the international scenario is a challenge calling for promoting trade and attracting foreign investment. In this context Mercosur must be geared precisely to generate investments and participation in global value chains, with direct impact on jobs in small and medium enterprises.
Likewise the multilateral trade system and WTO, are pivotal in enensuring that the benefits of free trade reach everybody, advancing development, creating jobs, eliminating poverty and correcting trade distortions, particularly regarding agriculture markets.
Ms Michetti said Argentina reaffirms its will to become more globally integrated through building bridges with the international community. This commitment, she said, is reflected in the plans for Argentina to be the host of the eleventh World Trade Organization (WTO) Ministerial Conference in December.
Ms Michetti has a special mention of solidarity with the Mexican people: "The environment and the forces of nature have put as before challenges that demand a reply from all of us".