UK urges UN to be efficient and transparent, "win our trust"... and funding
Thursday, September 21st 2017 - 06:59 UTC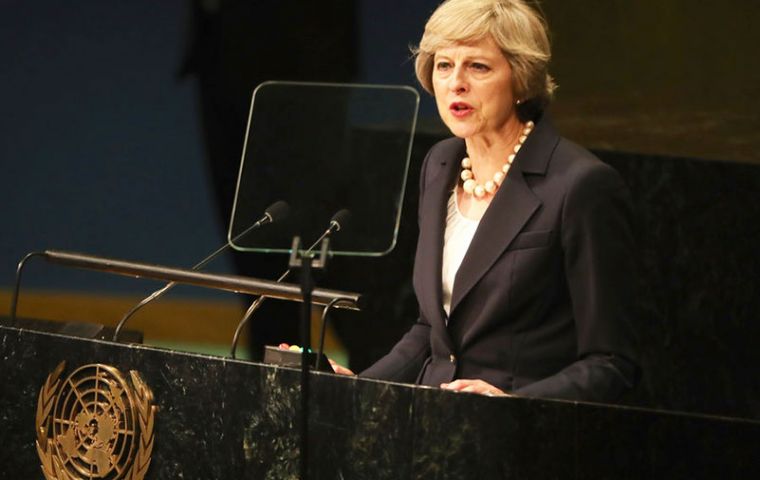 Theresa May has warned the United Nations that Britain could withhold up to 30% of its £90m core funding each year unless the organization reforms. The PM told delegates at the UN general assembly there was a gap between "the nobility of its purposes and the effectiveness of its delivery".
In order to secure the full £90m, UN agencies will need to show they are efficient and transparent. Mrs. May urged the international body to "win our trust".
And she warned of a "crisis of faith in multilateralism" if the UN is no longer able to meet the challenges of the age. Earlier this week, US president Donald Trump also threatened to withdraw funding from the UN unless it reformed.
The new UN secretary general, Antonio Guterres, has promised reforms to make it "more agile, transparent and joined-up".
Plans to make up to 30% of the UK's core funding conditional on making good on this pledge were first announced by International Development Secretary Priti Patel, who has also been at the UN Summit in New York.
Officials said it meant UN teams would have to co-operate more on the ground instead of setting up separate offices and operating independently of one another. They also say the UN should be more transparent in its expenditure and there should be less competition for funds between different agencies.
In her general assembly address, Mrs. May warned: "If this system we have created is found no longer to be capable of meeting the challenges of our time, then there will be a crisis of faith in multilateralism and global co-operation that will damage the interests of all our peoples."
The BBC's Nick Bryant, in New York, said the funding would be withdrawn not from the UN as a whole, but from certain agencies that the UK thinks are underperforming.
So some, like Unicef and the World Food Programme are not under threat, but there are others - such as a UN development agency - that the UK does not like, he added.
In the rest of her speech, she also highlighted the importance of the Paris climate change agreement which Mr. Trump has threatened to pull out of.
Minutes later, she held a meeting with the president, who said he expected the US to do "a lot of trading with the UK".