Falklands celebrates Chilean Independence Day at Government House
Friday, September 22nd 2017 - 20:16 UTC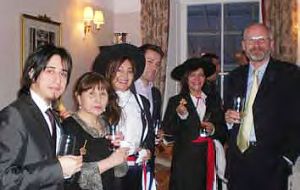 Chileans in the Falkland Islands celebrated their country's Independence Day with a reception at Government House in Stanley on Monday and on the weekend a traditionally lively gathering at The Narrows Bar.
Chilean Independence is celebrated over two days with September 18, being in commemoration of the proclamation of the First Governing Body of 1810, and marking the beginning of the Chilean independence process; September 19, is known as the Day of the Glories of the Army.
Within Chile the celebration can last for around a week and is held close to the spring equinox doubling as a spring festival.
This day is very important to the Chilean people because they are celebrating their freedom from Spanish rule. Chile's Declaration of Independence took place on February 12, 1818.
According to the latest census (2016) the population of the Falklands has reached some 3.350 people of which 200 are Chilean born. (Penguin News).-